Posted 22 March 2012
James Joyce's guitar goes under restoration for Bloomsweek recitals
Professor Fran O'Rourke, UCD School of Philosophy, has orchestrated the careful restoration of James Joyce's guitar which has been on display at the Joyce Tower Museum for the past 45 years.
Gary Southwell, the renowned lutenist, who has been commissioned to restore the guitar at facilities provided by the National Museum of Ireland, Collins Barracks, Dublin, considers the guitar was made in the early to mid-nineteenth century, around the 1830s.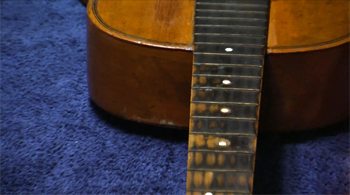 Image detailing the fretboard on James Joyce's guitar (Courtesy of Irish Times)

Pictured far right: Luthier Gary Southwell with a guitar once owned by James Joyce at the National Museum of Ireland, Collins Barracks, Dublin. (Photograph: Bryan O'Brien, Irish Times)
"As far as the guitar itself is concerned, it's not from any great maker of the past or anything like that," said Southwell speaking to The Irish Times.
"It would have been a fairly standard instrument of the period. Obviously the interest about it is that it was James Joyce's guitar."
Following the restoration, the guitar will maintain all the original wear and tear marks made by James Joyce while playing the instrument.
"Like many other readers and fans of Joyce, I first saw the guitar in the famous photograph of Joyce with the guitar that was taken by Ottocaro Weiss in Zurich almost 100 years ago in 1915," said UCD Professor Fran O'Rourke, who has published academic papers on Joyce's use of philosophy, speaking to The Irish Times.
"I put the suggestion of restoring Joyce's guitar to Robert Nicholson, Curator of the Joyce Tower Museum, and thanks to Gary Southwell we'll soon be able to hear what Joyce's guitar sounded like."
The restored Joyce's guitar will be played at a series of lunchtime recitals by UCD Professor of Philosophy, Fran O'Rourke, and DIT Professor of Guitar, John Feeley at UCD's Newman House, St Stephen's Green, Dublin, during Bloomsweek (June 2012).
James Joyce graduated from University College Dublin with a BA in 1902.
This article was adapted from materials published in The Irish Times

(Produced by UCD University Relations)