Posted 18 June 2012
UCD Bloomsday celebrates film with honorary degrees for Daniel Day-Lewis, Brenda Fricker and UCD graduate, Jim Sheridan
Dr Tony Scott, founder of the BT Young Scientist honoured with Ulysses Medal
Bloomsday, synonymous with James Joyce and his novel Ulysses, is the most important honours day at University College Dublin, the alma mater of this great 20th century author. This year, the university awarded honorary degrees on Daniel Day-Lewis, Jim Sheridan, Brenda Fricker, Joan Bergin and Laura Mulvey for their contribution to art through film.
UCD also awarded the Ulysses Medal to physicist Dr Tony Scott for his contribution to science education.
Daniel Day-Lewis
Flying in to Dublin for the ceremony at UCD from New York, double Oscar winner, Daniel Day-Lewis received the honour for his remarkable body of work, which spans There will be Blood, Age of Innocence, Last of the Mohicans, My Left Foot, and the forthcoming Lincoln. London-born Day-Lewis is also an Irish citizen. His father, a Laois man, the Anglo-Irish translator and writer of detective fiction, Cecil Day-Lewis, was British poet laureate from 1968 to 1972. His mother was actor Jill Balcon and his grandfather, Michael Balcon, was the head of Ealing studios.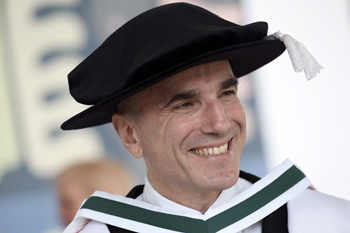 In her official citation for Daniel Day-Lewis, Dr Fionnuala Dillane, UCD School of English Drama and Film said: "Today, UCD honours Daniel Day-Lewis for that matchless talent, the commitment, and the diversity yet consistent brilliance of his screen performances that have shaped so many unforgettable, complex and challenging stories and that have enriched our own understanding of what it is to be human."
"Daniel Day-Lewis has been committed to the portrayal of formative Irish stories in his work with renowned Irish director, Jim Sheridan, in a trilogy of seminal films. As Christy Brown (My Left Foot, 1989), Gerry Conlon (In the Name of the Father, 1993) and Danny Flynn (The Boxer, 1997), Daniel Day-Lewis provided internationally-acclaimed, award-winning interpretations of marginalised Irish men, discriminated against unjustly, who battle with social, political or physical adversity, or more interestingly, men who become who they are precisely because of the social, political and physical conditions in which they find themselves."
Jim Sheridan
Director of Day-Lewis' Oscar-winning performance, Jim Sheridan's adaptation of Christy Brown's memoirs, My Left Foot, in 1989 literally changed how Ireland was seen on film both at home and abroad. His career as a director continues with most recent movies Brothers (2009) starring Tobey Maguire and Natalie Portman, and Dreamhouse (2011) starring Daniel Craig and Rachel Weisz.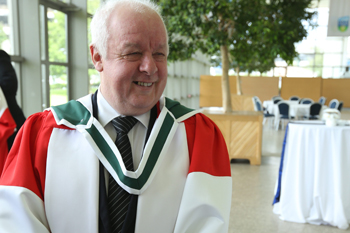 Dubliner Sheridan graduated from UCD in 1972 with a BA in History and English where he was involved in acting and directing with DramSoc, the university's dramatic society.
Brenda Fricker
Fellow actor in Jim Sheridan's breakthrough film, My Left Foot, Brenda Fricker's acting career began when she was just nine years old and has spanned 40 years with her most recent appearance in Albert Nobbs and in the award-winning road movie Cloudburst opposite Olympia Dukakis.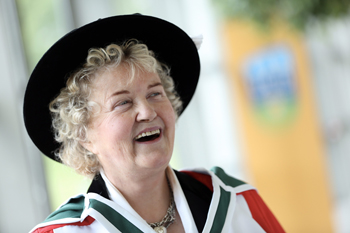 Highly acclaimed for her portrayal of Irish women and mothers (The Field, Big Maggie, Veronica Guerin), Fricker spent five years as Irish nurse, Megan Roach, in the British television series, Casualty.
Joan Bergin
Fellow Oscar winner for her costume design, Joan Bergin, began her career at the Focus Theatre in Dublin and has worked alongside Fricker, Jim Sheridan and Noel Pearson on many film productions.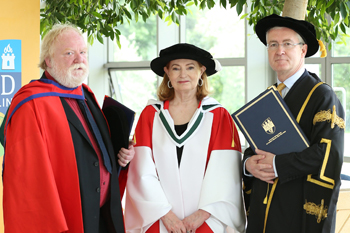 Joan Bergin pictured with her citator Prof Frank McGuinness (left) and Dr Hugh Brady, President of UCD
The breadth of her design reaches from Riverdance to The Tudors, taking in Ibsen, Chekhov, Pinter and JB Keane en route.
Laura Mulvey
Also honoured at the Bloomsday graduations at UCD was Laura Mulvey, professor of Film Theory at Birkbeck, University of London. Mulvey's long career dovetails with the maturation of Film Studies as a scholarly discipline.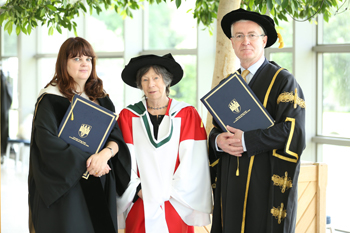 Prof Laura Mulvey pictured with her citator Diane Negra and Dr Hugh Brady, President of UCD
She is one of a generation of "activist academics" who combine scholarly thought with social justice, challenging society to think clearly about popular culture rather than letting it wash over like a wave.
"Film as an art form is truly a powerful medium of expression." The President of UCD, Dr Hugh Brady said. "Today we honour a group who have been pivotal in transforming the international perception of Irish film from caricatured imagery into a modern, urban and often challenging reflection. It is wonderful to have these incredible role models here today for scholars and students of the UCD School of English, Drama and Film.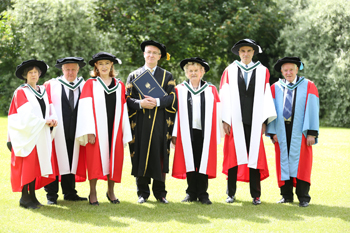 Pictured at the event: Prof Laura Mulvey; Jim Sheridan; Joan Bergin; Dr Hugh Brady, President of UCD; Brenda Fricker; Daniel Day-Lewis; Dr Tony Schott
Honouring Irish film on Bloomsday is appropriate as Joyce emerges repeatedly as an influence on Irish artists."
As Jim Sheridan himself recalls: 'James Joyce always tells me the answer to everything I need to know on any project I'm doing.'
UCD honours Dr Tony Scott, founder of the BT Young Scientist with Ulysses Medal
Dr Hugh Brady presented UCD's Ulysses Medal to Dr Tony Scott, founder of the Young Scientist Exhibition, at the Bloomsday celebrations at Belfield.
From its first outing in the Mansion House in 1965, the Young Scientist has grown from 230 participants and 5,000 visitors to over 1,600 entries attracting over 37,000 visitors. The brainchild of Dr Tony Scott and Rev Tom Burke, the idea evolved from visiting science fairs in the USA as young physicists.

"Throughout his career Tony Scott strived to bring science alive. As a teacher he was passionate, taking time and care with his students. Even when he moved into the public affairs role at the university he insisted on taking undergraduate classes.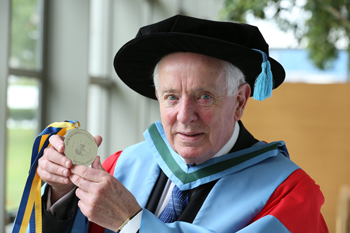 Long before there were such things as Presidents Teaching Awards, Tony was recognised as a gifted teacher, specialising in that most difficult task, inculcating the fundamental principles of physics into students who would never be physicists but needed to know the basics, such as medics, radiographers and physiotherapists. Today we honour Tony with the Ulysses Medal as a mark of our esteem for all of his work for science education and for this university." Dr Brady said.
Delivering the Ulysses citation, journalist Dick Ahlstrom said "I can think of very few who have had a bigger impact on the life of UCD, on the communication of science, and on the youth of the nation than Tony Scott.
Because of him thousands of school students will know exactly where they will be next January as they troop into the RDS for the 49th annual Young Scientist exhibition, just as tens of thousands more have done over the past five decades.
Tony Scott received a first class BSc in Experimental Physics from UCD and subsequently a PhD in 1966. His research specialised in atmospheric pollution and the structure of human corneas. He was elected Dean of Science in 1987 and served two terms before being appointed Director of Public Affairs at UCD in 1989. He also served on the
UCD Governing Authority
from 1988 to 1994. Throughout his career he has held numerous leadership roles with bodies including the
Institute of Physics
and the
Royal Dublin Society
.
(Produced by UCD University Relations)