Posted 27 February 2013
Irish Government and industry partners invest €300million in seven world-class research centres
Details of the largest State-industry co-funded research investment programme in Ireland were announced by government ministers, Mr Richard Bruton and Mr Sean Sherlock with UCD researchers involved in three of the seven collaborative research centres.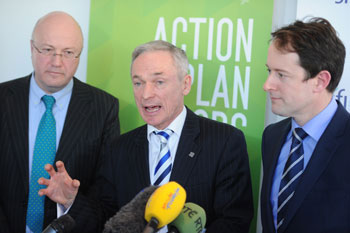 Pictured at the announcement: Professor Mark Ferguson, Director General of SFI; Minister for Jobs, Enterprise & Innovation, Mr Richard Bruton TD & Minister for Research & Innovation Mr Sean Sherlock TD
The largest investment is to be given to INSIGHT – led by Professor Barry Smyth [see Irish research takes a big step in "Big Data" story].

€200 million of Irish exchequer funding will be delivered over the next six years through Science Foundation Ireland's (SFI) Research Centres Programme coupled with over €100 million in cash and in-kind contributions from industry partners.
So far, 156 industry partners are connected to the centres, spanning multinationals and SMEs, including Cisco, Hewlett Packard, Microsoft, Medtronic, GSK, Pfizer, Eli Lilly, BT, Kerry Group, The Irish Times, ESB, Alere, Intune Networks, Intel, IBM, RTE, Roche, UTRC Ireland and many more.
Centres led by or involving UCD include:
Big Data Analytics

A growing torrent of data is created every second of every day as companies generate a burgeoning volume of transactional data, both structured and unstructured, while new networks of sensors capture a wealth of information about how we live, work, and play.
In this age of 'Big Data' we are witnessing a quantum leap in the quantity and quality of information drawn from all aspects of our lives. This centre will develop the new set of technologies required to harness and transform the massive amounts of raw data gathered into valuable insights that can inform better decisions.

Professor Barry Smyth leads the UCD team of Co PIs including Dr Brian Caulfield, Professor Pádraig Cunningham, alongside Professor Alan Smeaton from DCU, Professor Stefan Decker from NUI Galway, and Professor Barry O'Sullivan from UCC.
The principal application domains that will be served by the programme of research are "Connected Health" and "The Discovery Economy", incorporating applications in human mobility and smarter cities, customer relationship management, promotion of independent living, management of chronic disease, performance enhancement, social media, ecommerce, cyber security and privacy.
INSIGHT will create a reusable Data Analytics pipeline enabling the transformation of data into actionable knowledge applicable and disruptive in many different domains as demonstrated by the wide variety of companies supporting our proposal. In addition, INSIGHT will address the current global shortage in data analytics practitioners - through the training of PhDs and a research master's programme that will address a particular gap in the data analytics labour market.
Drug synthesis/crystallisation (Synthesis and Solids Pharmaceutical Centre (SSPC))

The next generation of drug manufacturing will require a more integrated approach with the aim of reducing the time and cost to market and meeting ever increasing regulatory requirements. This centre will carry out research with the overarching objective to devise better drug syntheses, control processes and predict outcomes for the efficient and environmentally sustainable production of medicines. This centre is of major importance to Ireland's pharmaceutical sector, a sector which generated over €56 billion in exports in 2012.

Three UCD academics, Professor Brian Glennon, Professor Pat Guiry and Professor Martin Albrecht, are Co-PIs, supported by Professor Declan Gilheany, and Dr Francesca Paradisi, on the University of Limerick-led Synthesis and Solid State Pharmaceutical Cluster. Professor Kieran Hodnett is the Lead PI from UL and other Co-PIs from UL, TCD and UCC are also key scientists in the centre. The SSPC has industrial support from many of the top multinationals present in Ireland (e.g. Eli Lilly, GSK, MSD, BMS, Roche, Pfizer, Janssen, Clarochem) as well as indigenous SMEs (e.g. APC, Glantreo, Eirgen Pharma, Innopharma Labs and Amebis).
The research programme spans the entire pharmaceutical production chain (from drug synthesis to drug crystallisation to drug formulation) and will focus specifically on areas where there are critical deficits in knowledge and understanding or where the most important developments can be made.
The overarching societal impacts of the Centre will be: enhanced education and training of highly skilled industry-relevant researchers, a 'greener' pharmaceutical industry and greater availability and choice of medicines for patients at lower cost.

Centre for Marine Renewable Energy Ireland (MaREI)

Marine Renewable Energy (MRE) is an important future energy source globally. However, significant engineering and technology challenges must be resolved before the fledgling MRE industry contributes to mainstream electricity production.

Ireland is one of the best locations in the world in terms of marine renewable energy resources. This centre will look to generate energy technologies for industry from wave, tidal and floating wind devices, their connection to the national grid and novel methods for storing the energy generated.

Led by Professor Alistair Borthwick at UCC, the centre includes UCD's Professor Frederic Dias as Co-PI, supported by Professor Chris Bean and Dr Ken Gavin, along with colleagues from NUI Maynooth, NUI Galway and the University of Limerick. The centre has partnership support from more than forty companies.
Ireland is highly dependent on energy imports so, by advancing MRE technologies and infrastructure, Ireland will be able to harness this energy and improve its economy by becoming a long term exporter of electricity. Ireland's target for MRE is 75MW by 2020 from wave and tidal energy, in addition to 550MW from offshore wind.

The centre will focus on three research deliverables, MRE engineering, MRE software tools and MRE supporting framework – which includes level 9 programmes to train industry-related researchers.

Speaking at the announcement event, the Minister for Jobs, Enterprise and Innovation, Mr Richard Bruton TD said, "A key part of the Government's Action Plan for Jobs is to build on the major achievements in scientific research we have built up over the past decade and turn more good ideas into good jobs. Today's announcement will lead to the establishment in Ireland of world-class centres of research excellence and scale which will be game-changers for Irish scientific research."

"The €300million investment announced today, and the seven new, large-scale, world-class research centres it will support, are aimed at achieving a step-change in the reputation and performance of Ireland's research system. This will support more than 800 talented scientists, develop cutting-edge research and new technologies, attract dynamic partnerships with industry and ultimately help to create the jobs we need."

The Minister for Research and Innovation, Sean Sherlock TD said, "This is a landmark moment in the evolution of Ireland's research system which will deliver major economic and societal benefits for Ireland in the years to come. Today's unprecedented funding announcement will help deliver the quality jobs of the future for Ireland in a range of areas such as information and communications technology; internet based services; pharmaceuticals; medical technologies and energy amongst other things."

Minister Sherlock added, "The sheer scale of the industry involvement with a commitment so far of over €100m also indicates a major endorsement of Ireland's research capability. Industry globally clearly recognizes that this is a really good country in which to conduct their business. Today also delivers another milestone for this Government's Research Prioritisation objectives, with SFI leading the way. Importantly, these centres will also strongly position Irish based scientists with EU research programmes, and should enable us to win further significant investments to these shores in the coming years. "

The seven research centres mark a new collaborative approach and bring together multidisciplinary teams comprising 800 scientists from across Ireland's leading higher education and research institutions and interacting with 156 industry partners.

The centres will be in the following areas:

Big Data – with the explosion of internet based information through this centre we will see the development of breakthrough data analytics technologies to make Ireland a global leader in this rapidly expanding area;
Marine renewable energy – Ireland is one of the best locations in the world in terms of marine renewable energy resources. This centre will look to generate energy technologies for industry from wave, tidal and floating wind devices.
Drug synthesis/crystallization – this centre will develop new mechanisms and better control processes to produce new and improved drug formulations and safe medicines. This centre is of major importance to Ireland's pharmaceutical sector, a sector which generated over €56 billion in exports in 2012.
Nanotechnology/engineered materials – will deliver world-leading research across a number of key enterprise sectors, most notably ICT, industrial technology and medical devices and delivery systems. Ireland is currently ranked 6th globally in nanotechnology and 8th in materials science.
Food for health/functional foods; the centre will address important issues such as disease prevention, healthy ageing and improved population health in general. Ireland is currently ranked 2nd in the world in probiotics research.
Photonics – which is the generation, manipulation and utilization of light, is an important enabling technology that underpins many areas such as future networks, communications systems and medical devices.
Perinatal Translational Research – which will focus on fast-tracking discoveries relating to most complications of pregnancy and newborn babies and service a huge societal and economic need globally.
Professor Mark Ferguson, Director General of SFI, said, "These seven funded research centres were selected from 35 proposals following a highly competitive and rigorous international peer review process. This 20% success rate is comparable to international funding success rates. Each centre proposal was examined for scientific excellence through international scientific review by eminent scientists from the world's leading universities and for potential economic impact through an international impact review by distinguished industrial R&D leaders, high technology investors, translational institute directors and tech transfer directors from world leading universities. Over 100 esteemed international reviewers have joined with Industry and agency experts to ensure that the centres supported have excellent science with the potential to deliver societal and economic impact.

The seven centres involve a collaborative partnership across research institutions in Ireland with participation from University College Cork, University College Dublin, Tyndall National Institute (UCC), Trinity College Dublin, University of Limerick, NUI Galway, Dublin City University, Cork Institute of Technology, Teagasc, the Marine Institute, Geological Survey Ireland, Royal College of Surgeons and CSO Cork."

(Produced by UCD University Relations)