Posted 01 May 2013
First class of innovation and entrepreneurship students graduate from the Innovation Academy
Minister for Education presents first graduates in Innovation and Entrepreneurship with certificates
The first cohort of graduates from the inter-university Innovation Academy has been presented with their Graduate Certificates in Innovation and Entrepreneurship by the Minister for Education and Skills, Ruairi Quinn at a graduation ceremony in the Department.
Fifteen doctoral students received their certificates as part of their structured PhD programmes, which offers them taught modules in innovation-related subjects. They will continue working towards their individual PhDs, which cover topics ranging from the role of women in peace processes, to adolescents in Victorian literature to engineering new arteries.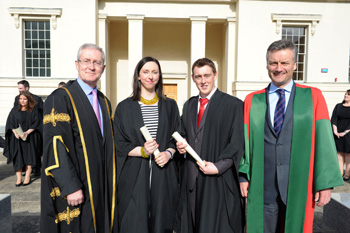 Laura Tobin (PhD candidate, Engineering, UCD) and David Corish (PhD candidate, Physics, TCD) after receiving their Graduate Certificates in Innovation and Entrepreneurship from the Innovation Academy, pictured with Dr Hugh Brady, President of UCD (left) and Dr Patrick Prendergast, Provost of TCD (right)
There are currently 240 PhD students taking modules through the Innovation Academy, which was set up in 2010 under the TCD UCD Innovation Alliance partnership. In 2011, the Innovation Academy received funding from the Programme for Research in Third Level Institutions PRTLI (Cycle 5) to support structured doctoral training. Among the subjects studied are creative thinking and innovation, opportunity recognition, intellectual property, planning and raising finance. The modules are delivered by staff from both universities, with substantial opportunity for the PhD students to engage with a range of external organisations and entrepreneurs.
The Innovation Academy is the educational centrepiece of the TCD UCD Innovation Alliance. At the Academy, education is a catalyst for innovation in Ireland, educating PhD students to recognise the innovation potential of their research and to exploit their ideas in a competitive world. Innovation encompasses the creative arts, social entrepreneurship, engineering, technology and business and the evolution of innovative ideas is encouraged in multidisciplinary teams.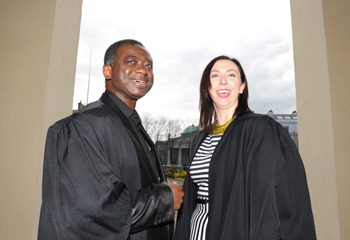 Pictured after receiving their Graduate Certificates in Innovation and Entrepreneurship: John Agberagba (PhD candidate, Ecumenics, TCD) and Laura Tobin Laura Tobin (PhD candidate, Engineering, UCD)
"The Academy opens up the university to research students in a way that traditional doctoral study rarely does. By crossing disciplinary lines, it encourages us to approach our research as integral to both the broader university community and society as a whole and gives us the tools to move all that thinking into action," said PhD student, Nora Pelizzari.
On the occasion of the graduation ceremony, the Provost of Trinity College Dublin, Dr Patrick Prendergast, and the President of UCD, Dr Hugh Brady, welcomed the Vice-Chancellor of Queen's University Belfast, Professor Sir Peter Gregson and Queen's University Belfast as a collaborative partner in the Innovation Academy.
"The three universities already enjoy strong collaboration in research, and extending this cooperation into innovation training opens opportunities which will benefit our students and our economies," Dr Prendergast said.
"Taking innovation as a third pillar alongside education and research makes the universities more relevant to the economy," Dr Brady said. "By encouraging students to incorporate innovation into their studies, we guide them to think creatively and to pursue their own ambitions to be creators of opportunities rather than passively waiting to be employed."
Professor Sir Peter Gregson, Vice-Chancellor of Queen's University Belfast, said: "The Innovation Academy is a vitally importantjoint venture that is helping to create a new generation of energetic and resourceful entrepreneurial thinkers. We look forward to continued collaboration with University College Dublin and Trinity College Dublin in this programme and I wholeheartedly congratulate the first cohort of graduates."
The Innovation Academy continues to attract new PhD students to its programme and is forming new partnerships for collaboration across Europe.
The TCD UCD Innovation Alliance was set up in 2009 as a partnership between the education sector, the State and its agencies and the business and venture capital communities to develop a world-class ecosystem for innovation that can drive enterprise development and entrepreneurship.
(Produced by UCD University Relations)