Posted 16 December 2013
China makes unprecedented investment of €300m to establish new UCD international university campus
Innovation-focused international university will provide pipeline of students to Ireland and support Irish enterprises seeking foothold in China
China has committed to provide University College Dublin (UCD) with an unprecedented investment of €300m and a 300 acre (121 hectare) campus to establish a new international university in the scenic coastal city of Yantai (population c8m) in the province of Shandong (population c95m).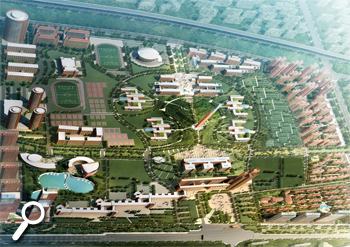 Architectural impression of international university campus, UCD Yantai
Yantai City, in addition to being one of China's leading tourist destinations, is an important gateway city to Japan and Korea and is situated in Shandong Province, which ranks third in China in terms of GDP.
The new university, which will be called UCD Yantai, will be the first comprehensive international university in the northern half of China and only the fifth such institution in China. It will be distinctive in that it will be research-intensive from the outset with a major focus on innovation.
UCD Yantai will have a full university curriculum covering three streams, 1) life sciences, 2) engineering, mathematics and computer sciences and 3) business, humanities and social sciences.
With a projected launch date of 2015, the new university will grow to a steady state of 7,500-10,000 over 5-7 years. Courses will be delivered through English and students will take the UCD curriculum and graduate with a UCD degree.
Significantly, up to 1,000 students of the UCD Yantai students per annum will study in Ireland as part of their degree course.
The new university will include a major incubator centre, called NovaUCD Shandong, modeled on NovaUCD in Dublin. It will support local start-up companies and Irish enterprises seeking to do business in Shandong Province, and show-case Ireland as a preferred European base for Chinese companies.
The new university will be a joint venture with China Agricultural University (CAU) and has received strong support from Mr Hao Ping, Vice Minister for Internationalisation in the Chinese Ministry of Education as well as the Taoiseach, Tánaiste and Minister for Education and Skills.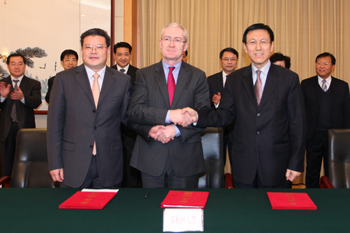 Pictured (l-r): Meng Fanli, Mayor of Yantai; Dr Hugh Brady, President of UCD; Dr Ke Bingsheng, President of China Agricultural University
Speaking at the signing ceremony, UCD President, Dr Hugh Brady, spoke of the importance of the China-Ireland relationship and thanked the Irish Government for its vital support for the project: "China's pace of development is breathtaking and the UCD Yantai development provides Ireland with a new bridgehead into one of China's most economically vibrant provinces. I wish to thank the Taoiseach, Tánaiste and Minister for Education whose highly visible support for this project has been very important in securing the unprecedented investment from our Chinese partners."
An Taoiseach, Mr Enda Kenny TD, said: "This is a landmark event which builds on the impressive progress there has been in Ireland-China relations. UCD is to be commended for steadfastly developing its footprint in China. I look forward to the UCD Yantai campus working in concert with Ireland's enterprise development agencies to support Irish businesses in China and showcase Ireland as a destination for FDI. It is also significant and welcome that 1,000 UCD Yantai students a year will study in Ireland as part of their degree course which is very much in line with Government policy in the Action Plan for Jobs."
Mr Ruairi Quinn TD, Minister for Education and Skills, said: "It has been a privilege for me to have been part of this exciting venture. The UCD Yantai project is meritorious in its own right as a high profile development in international higher education. The prospect of a pipeline of talented and ambitious Chinese students to Ireland is an important added bonus. Congratulations to President Hugh Brady and his UCD team."
Vice Mayor Zhang, Yantai Municipal Government, said: "Today success was a joint team effort. This project will benefit the future generations. Yantai Municipal Government looks forward to working closely together with CAU and UCD to establish a world class university. This is a project of historic significance".
Gary Fallon, Director, Enterprise Ireland – China Office, said: "The UCD Yantai development is a potential game-changer for companies looking to do business in China. It will dramatically enhance Ireland's profile in the world's second largest economy. Enterprise Ireland looks forward to working in partnership with UCD to leverage the infrastructure and supports that the NovaUCD Shandong facility will offer".
(Produced by UCD University Relations)