Posted 24 January 2014
New Community Entrepreneurship Programme aimed at promoting sustainable communities throughout Ireland
A new collaboration between the Innovation Academy, UCD and GAA, the Community Entrepreneurship Programme was launched in Croke Park by UCD President, Professor Andrew J Deeks, and Uachtarán Cumann Lúthchleas Gael, Liam Ó Néill. Also in attendance were well-known Entrepreneurs and Programme Champions Pat McDonagh, founder of Riverdeep and Brian McEniff, Director McEniff Hotels.
"We are delighted to partner with UCD on this exciting innovative project and believe the reach of our organisation has the potential to bring opportunities to both members and non-members alike right across the island," said Uachtarán Chumann Lúthchleas Gael, Liam Ó Néill.
"There is no shortage of talent amongst our people and this is not restricted by any means to those who live in large urban areas. I hope this initiative engages people of all ages from different backgrounds and makes a tangible difference in helping people to find career paths in the areas where they live across our four provinces."
The collaboration will build on the combined strengths of the two parties: (i) community participation on the part of the GAA, (ii) action based entrepreneurial education as developed by the Innovation Academy, UCD.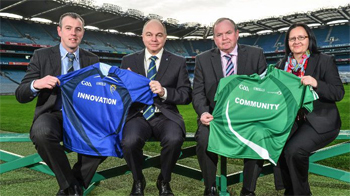 Pictured at the announcement: Brendan Allen, Innovation Academy UCD; Prof Andrew J Deeks, UCD President; Uachtarán Chumann Lúthchleas Gael, Liam Ó Néill and Prof Suzi Jarvis, Innovation Academy UCD
The Community Entrepreneurship Programme facilitates those in rural communities to take a fresh look at their resources and examine how they can best harness them. Delivered over 18 weeks it is facilitated by entrepreneurs who apply their own experiences and knowledge to the design and delivery of the programme. They help students to develop the confidence and skills to turn their ideas into new ventures.
"Entrepreneurship is at the heart of sustainable communities and this is recognised by the Government which [today] has launched its National Entrepreneurship Strategy," said Professor Suzi Jarvis, Founding Director, Innovation Academy, UCD.
"The GAA and the Innovation Academy UCD through the Community Entrepreneurship Programme are providing very direct support to individuals living in rural communities to take that step to becoming self-employed. This is about job creation, about maintaining vibrant and economically successful communities and providing a viable alternative to emigration. We greatly value this collaboration with the GAA and look forward to growing the Community Entrepreneurship Programme with the Association."
The programme is being championed by entrepreneurial leaders in each province, Pat McDonagh, founder of Riverdeep, Brian McEniff, Director, McEniff Hotels, Pat McDonagh, Managing Director, Supermacs and Frank Murphy, CEO, Monex.
The first four Community Entrepreneurship Programmes will be delivered in Portlaoise, Ballyhaunis, Limerick and Monaghan during 2014 with a view to extending the programme to other areas in 2015.
The programme is open to HEA Springboard applicants and participants who complete the Level 7 course will be presented with a Certificate in Community Entrepreneurship from UCD. There are no exams and participants 'learn by doing', working in teams to develop key entrepreneurial skills.
(Produced by UCD University Relations)