Posted 17 June 2014
Bloomsday honours for champions of justice and UCD Ulysses Medal for former President of Ireland, Mary McAleese
Bloomsday (16 June), synonymous with James Joyce and his novel Ulysses, is the most important honours day at University College Dublin (UCD), the alma mater of this great 20th century author. This year, UCD honours five outstanding people whose work in the area of justice has made an extraordinary contribution to society not just in Ireland but in the global arena.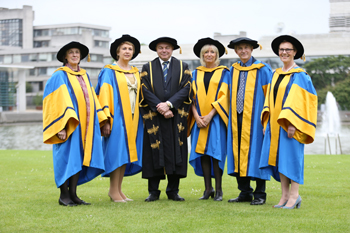 President of UCD, Prof Andrew J Deeks pictured at UCD Bloomsday awards ceremony with honourees
Former President of Ireland, Ms Mary McAleese was awarded the UCD Ulysses Medal; and Chief Justice, The Hon Ms Justice Susan Denham; Director General of FLAC, Justice, Ms Noeline Blackwell; European Ombudsman, Ms Emily O'Reilly; and Professor of Human Rights at LSE, Professor Conor Gearty were awarded UCD Honorary Degrees of Doctors of Laws.
The UCD Ulysses Medal is the highest honour the university can bestow. It was inaugurated in 2005, as part of the university's sesquicentennial celebrations, to highlight the 'creative brilliance' of UCD alumnus James Joyce. It is awarded to individuals whose work has made an outstanding global contribution.
Previous recipients of the UCD Ulysses Medal include: Nobel-prizewinner, Seamus Heaney; Irish playwright, Brian Friel; former US President, Bill Clinton, and Irish playwright and theatre director, Tom Murphy.
UCD Ulysses Medal for former President of Ireland, Mary McAleese
UCD Professor of History and President of the Royal Irish Academy, Mary Daly who read the citation for Mary McAleese said: "Education, especially her training as a lawyer, plus the debating skills that she acquired as a student in St. Dominic's secondary school, have given her the knowledge, the intellectual capacity and the confidence to speak, write and act upon many of the key issues in Irish society over the past forty years . She has never been afraid to adopt an unpopular, unfashionable position, and she has continued to confound those who have sought to categorise her."

Pictured after receiving the UCD Ulysses Medal: Former President of Ireland, Mary McAleese and her husband Martin McAleese at UCD Bloomsday Awards
She added: "She has a long record of involvement in penal reform; prisoners' rights, campaigns for Irish prisoners overseas, including the Birmingham Six and the Guildford Four and she is a strong advocate for the rights of the disabled. Her Ph.D. thesis which is near completion addresses the treatment of children in canon law. Children featured prominently during her Presidency; visits to every national school close to Aras an Uachtarain, which brought her into contact with many children from deprived communities and new immigrant families. And many of her speeches refer to the opportunities that education can convey, and the need to open up opportunities for marginalised groups, so that they can be released from 'the prison of under-achievement'."
And she said: "Mary McAleese's term as President included the 1998 Good Friday Agreement and the successful establishment of the Northern Ireland Assembly with a power-sharing executive. She shared a platform with First Minister Ian Paisley. But her most significant and historic public engagements were with Queen Elizabeth II. On 11 November 1998 – the first anniversary of her inauguration as President, they jointly opened the Irish peace tower as Messines, which commemorates all the Irish troops who died in the Great War, and In 2011 she memorably welcomed Queen Elizabeth to Aras an Uachtarain and accompanied her to the Garden of Remembrance and the Memorial Garden at Islandbridge."
UCD Honorary Degree of Doctor of Laws for Noeline Blackwell
Dr Ooonagh Breen, UCD Sutherland School of Law, who read the citation for Noeline Blackwell said: "As Director General of FLAC, Noeline Blackwell has provided unparalleled leadership in establishing FLAC as one of Ireland's leading human rights organisations, focused on ensuring equal access to justice for all. Under Noeline's direction, FLAC has been to the forefront of the campaign to reform Ireland's archaic debtor laws, as well as seeking changes to housing and social welfare laws that affect the country's poorest. She is rightly regarded as one of Ireland's most progressive lawyers."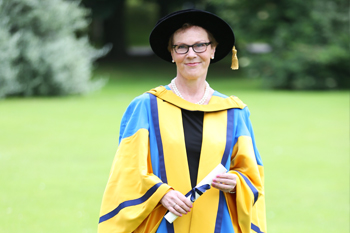 Pictured after receiving UCD Honorary Degree of Doctor of Laws: Director General of FLAC, Justice, Noeline Blackwell at UCD Bloomsday Awards

She added:"With Noeline at its helm, FLAC has emerged as an expert voice in the consumer credit and debt law arena with Noeline herself recognised as one of the most authoritative consumer-focused advocates for the rights of individuals suffering under the strains of personal insolvency and struggling with unmanageable mortgage arrears. FLAC continues to advocate for a better state-funded system of civil legal aid and to promote public awareness of people's right to legal aid and assistance."
And she said: "It is fitting that UCD today should, by the conferral of this honorary degree, recognise a woman who continues to use the law to give voice to those with no voice, articulating on their behalf and providing that necessary unwavering ripple of hope that a solution is possible even if not immediately apparent."
UCD Honorary Degree of Doctor of Laws for Susan Denham
Mr Paul Gallagher Sc who read the citation for Susan Denham said: "In 1992 she became the first woman appointed to the Supreme Court and on 25th July 2011 became the first woman to be appointed as Chief Justice of Ireland. She served as Pro-Chancellor of Dublin University from 1996 - 2010. As a lawyer, judge, and educator, she has provided selfless and highly committed public service in a lifetime of great achievement. She has brought to all of these roles her qualities of integrity, judgment and courtesy which have greatly enhanced her work."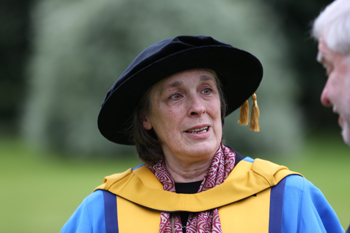 Pictured after receiving UCD Honorary Degree of Doctor of Laws: Chief Justice, The Hon Ms Justice, Susan Denham at UCD Bloomsday Awards
"Susan Denham's lifelong dedication to the administration of justice has through a singular focus of intellect, judgment and vision yielded great benefit for us all."
He added: "Susan Denham's influence on both the composition of Irish law and the structure of the lrish legal system over the last 20 years has been remarkable. As a judge she has played a central role in the judicial development of Irish law in that period. She has been involved in the determination of all the leading constitutional cases of the past two decades. This has occurred at a crucial time and during a period of profound and far-reaching developments in our society generally and in the constitutional law that governs it, both domestically and at an international level."
He also said: "Susan Denham commenced her legal career in a male dominated profession and in a legal system that had changed very little for decades, if not centuries. She has displayed a deep understanding of the administration of justice and the role of the judiciary recognising at the same time that respect for, and devotion to, the law is not incompatible with change. She has used her special skills to play a vital role in the determination of the changes required to modernise the legal system and to make its operation more consonant with the needs of a modern society. Her legacy to the law is special. It reflects her great humanity, understanding and empathy. She has enhanced respect for the law and the Courts. She has ensured that the legal system has responded to the needs of a modern society without compromising its integrity. Her vision and her achievements have left an enduring legacy to society, a legacy of which both lawyers and non-lawyers can be proud. For these immense contributions we honour Susan Denham today."
UCD Honorary Degree of Doctor of Laws for Conor Gearty
Professor Colin Scott, Dean of Law at the UCD Sutherland School of Law who read the citation for Conor Gearty said: "Conor Gearty has effectively brought together his academic prowess with aptitude and a seemingly relentless appetite for engaging wide audiences on pressing and challenging issues, through his scholarship, his wide ranging contributions to traditional and new media and through his practice at the English Bar."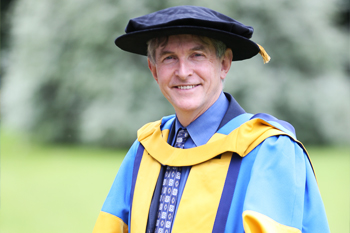 Pictured after receiving UCD Honorary Degree of Doctor of Laws: Professor of Human Rights at LSE, Prof Conor Gearty at UCD Bloomsday Awards
He added: "His appointment in 2013 to direct LSE's Institute of Public Affairs was an inspired choice, and he has stamped his personality on this role with a series of underground discussions of unexpected topics, labelled LSE Guerilla lectures. A series of short Youtube interviews with LSE academic colleagues on the significance of their work are offered in a format referred to as the Gearty Grilling."
He also said: "Conor Gearty, you are a true representative of the Republic of Conscience. Through your scholarship you have challenged received wisdoms. Your commitment to, and achievements in, communication have enhanced society's ability to reflect on vital matters of law, justice, society and democracy. You have used your position, your skills and your energy to enrich our public sphere. For this civilizing gift we honour you today."
UCD Honorary Degree of Doctor of Laws for Emily O'Reilly
UCD Professor Bryan Fanning who read the citation for Emily O'Reilly said: "This award acknowledges her exceptional achievement as the Ombudsman and Information Commissioner from 2003 to 2013. During her tenure she came to be been recognised as a strong supporter of human rights and of the importance of holding public bodies to account where issues have been raised regarding standards of services provided. She has championed the extension of Freedom of Information Agency to public bodies such as the Garda Siochana."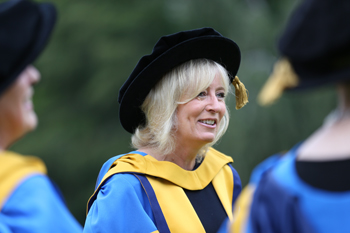 Pictured after receiving UCD Honorary Degree of Doctor of Laws: European Ombudsman, Ms Emily O'Reilly at UCD Bloomsday Awards
"Before 2012 her office had jurisdiction to investigate complaints in relation to the administrative actions of Government Departments, local authorities and the Heath Service Executive. In 2012 legislation was passed that extended the remit of the Ombudsman to over 180 additional public bodies including all publically-funded universities."
He added: "As Ombudsman, she was forceful and explicit in calling government agencies to account. She stretched the boundaries of the Office and was successful in gaining government support for this. Her outstanding success in this role is reflected in her election in October 2013 by the EU Parliament to the post of European Ombudsman with responsibility for investigating complaints about maladministration in EU institutions, bodies, offices and agencies."
(Produced by UCD University Relations)