Posted 23 September 2014
UCD Governing Authority appoints chair to GA and to finance committee
Eugene McCague and Charles Coase take on non-executive roles at UCD
The President of University College Dublin, Professor Andrew Deeks has announced the appointment Mr Eugene McCague, BCL, Dip EU Law, as Chair of the UCD Governing Authority and the appointment of Mr Charles Coase ACA, MA (Oxon) as Chair of the UCD Finance, Remuneration & Asset Management Committee.
Welcoming their appointments by the Governing Authority, Professor Deeks said that both have valuable experience in corporate governance which will be of immense benefit to the University. "I am deeply grateful to both for taking on these roles. UCD is at an important juncture in our history as we strive to achieve our ambitions and overcome external constraints. The UCD community of faculty, staff and students is deeply committed to contributing to society through research, scholarship and innovation. Having the talent of Eugene McCague and Charles Coase to draw upon will help the University to move strategically and to maximise our impact on society."
The appointments were made following a public call for expressions of interest and then a selection process. "We were privileged to have a wealth of highly qualified and capable people offering to serve the University in this way" said Professor Deeks. "The level of interest significantly exceeded our expectations."
Eugene McCague is a UCD graduate of law with a BCL and a Graduate Diploma in EU Law. He qualified as a solicitor in 1982, joined Arthur Cox in 1987 and became a partner in the firm in 1988. He was Managing Partner from 1999 – 2003 and Chairman from 2006 – 2013. Specialising in corporate law, Mr McCague regularly advises boards of directors on all aspects of corporate governance and has particular expertise the State sector.

Mr Eugene McCague
From 1995 to 1999, Mr McCague served as Chairman of the Governing Body of DIT and was Chairman of the DIT Foundation from 2005 to 2014. He served as President of Dublin Chamber of Commerce in 2006. From 2006 to 2013 he was Chairman of Arthur Cox, a partnership of 100 lawyers based in Dublin.
In the State sector, Mr McCague was a member of the board of the HSE from its inception as an Interim Board in 2004 until its abolition in 2011. In the voluntary sector he has served on a number of boards, including Focus Ireland, Cheeverstown House, Gleencree Centre for Reconciliation and Co-Operation Ireland. In the commercial sector, he served on the Board of Fleming Capital and currently on the Board of Aventas (Quinn Group). He is a lay member on the Council of Chartered Accountants Ireland and a member of the Public Interest Oversight Committee of Deloitte & Touche.
Charles Coase ACA, MA, holds a degree in Classics from Oxford University and qualified as a chartered accountant with Price Waterhouse in London. His career in finance spans over twenty-five years with Diageo, the global drinks business, where he has been Regional Finance Director Asia Pacific, based in Hong Kong; Finance Director Ireland (2000-2005); Group Treasurer and Group Controller. He is current Global Head of Internal Audit.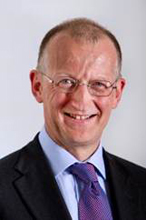 Mr Charles Coase
In parallel with his finance career, Mr Coase has considerable expertise as a pension scheme trustee. He is Chairman of the trustee boards of Diageo's pension schemes in both the UK and Ireland, responsible for the investment of some €9 billion of assets, and for service delivery to more than 60,000 scheme members. In February 2014 he was appointed independent Trustee Chairman for the staff pension schemes of Aviva in Ireland.
The selection process for the chairs was by public advertisement with expressions of interest going to a nominations sub-committee of the Governing Authority. Both posts are pro bono and are for a five-year term.
"In welcoming Eugene McCague and Charles Coase to their new roles, I would like to take this opportunity to publicly thank Mr Dermot Gallagher for chairing the UCD GA and to Mr Ron Bolger for chairing the UCD Finance, Remuneration & Asset Management Committee." The President added. "I am very aware of the deep commitment they showed to University College Dublin and support they gave to the President and to the University during the term of the last Governing Authority."
(Produced by UCD University Relations)