Posted 30 October 2014
NYT bestselling author, David Epstein delivers Inaugural O'Brien Science Lecture at University College Dublin
David Epstein, the author of the New York Times Bestselling book, The Sports Gene, delivered the Inaugural O'Brien Science Lecture at University College Dublin to a full to capacity George Moore Auditorium. In his lecture entitled: "0.5% The margin between good and great, and how to find it", he outlined how as sports have become more and more high stakes, global competitions, the performance margins that differentiate good, great and legendary have shrunk dramatically.
According to Epstein, "cutting-edge science has shone a light on the best path to peak performance, and it contradicts the most popular notions about skill acquisition, like the famed "10,000 hour rule". That argument says that only accumulated hours of practice matter to success. In fact, it seems that future experts start off practicing less in their eventual discipline than their peers.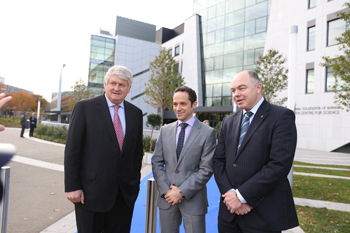 Pictured outside the UCD O'Brien Center for Science in advance of the lecture (l-r): Businessman and philanthropist, Denis O'Brien; New York Times bestselling author, David Epstein; and UCD President, Professor Andrew Deeks
In his lecture Epstein explained just what it is that future elites are doing during that time that primes them for later (and greater) success. He also analysed how – once at the top competitive level – athletes are using "small data" to find what factors most matter for performance, and which of those they can change in the pursuit of the final 0.5% of performance. The conclusions from elite sports can guide any individual or team in the search to find their personal 0.5%.
About The Sports Gene:
A top 10 New York Times best seller, The Sports Gene was chosen as a best non-fiction book of 2013 by The Washington Post and Publisher's Weekly. Runner's World chose it as The Book of the Year, and it was also a finalist for the William Hill Sports Book of the Year Award, the PEN/ESPN Literary Sports Writing Award, and the National Academy of Sciences Communication Award. It has been translated into thirteen languages.
About David Epstein:
David has given lectures about the science of high performance on five continents, including a 2014 TED Talk. His science writing has won a number of awards, including the Society of Professional Journalists 2010 Deadline Club Award for an article on the genetics of sports performance; Time Inc.'s Henry R. Luce Award for public service for an article on the dangers of the dietary supplement industry; and the Hypertrophic Cardiomyopathy Association's "Big Hearted Journalism" award for his story "Following the Trail of Broken Hearts," on sudden cardiac death in athletes.
In 2011, Epstein was a Livingston Award finalist (for the best American journalism by a writer under 35) for a package that included articles on pain in sports, painkiller addiction among athletes, and the anticipatory skills that allow Major Leaguers to hit 100 mph fastballs.
Epstein graduated from Columbia University in 2002 with a B.S. in environmental science and astronomy, and holds master's degrees in journalism and environmental science from the school. An avid runner, Epstein was a member of Columbia's varsity track squad (he ran the 800) and twice earned All-East honors in NCAA Division I.
In addition to Sports Illustrated, his writing and reporting has appeared in The New York Times, Discover, Scientific American, Slate, The Washington Post, British GQ, National Geographic and The Guardian, among other publications.
(Produced by UCD University Relations)