Posted 17 November 2014
Minister announces UCD global centre in Delhi
University College Dublin has announced details of its global engagement strategy which sees the setting up of global centres in India, China, Malaysia and the United States. The announcement was made during the Education in Ireland mission to India organised by Enterprise Ireland and led by the Minister for Skills, Research and Innovation, Mr Damien English TD.
Welcoming the announcement Minister English said: "I am delighted to welcome the announcement by the Deputy President of University College Dublin, Professor Mark Rogers, regarding the establishment of a UCD Global Centre here in Gurgaon, Delhi. This global centre is one of four being set up by UCD in India, China, Malaysia and the United States."
UCD has made enormous strides in internationalising the university and is the most popular destination for Indian students studying in Ireland. At present, there are 6,000 international students including 300 Indian students studying for degrees in science, computer science, business and engineering at UCD in Dublin.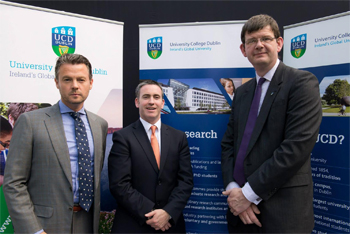 Pictured at the announement (l-r): HE Feilim McLaughlin, Ambassador of Ireland to India; Minister for Skills, Research and Innovation Damien English TD and Prof. Mark Rogers, UCD Deputy President
In order to encourage top calibre Indian students to come to Ireland's global university, UCD is offering a range of scholarships. The most prestigious of these are named in honour of VV Giri, the 4th President of India, who studied law at University College Dublin between 1913 and 1916. Students can apply through www.ucd.ie/international/scholarships. The deadline for scholarship applications is 31 March 2015.
In research, UCD focuses on four themes addressing critical challenges and economic development opportunities facing both India and Ireland: Agri-Food, ICT, Health, and Energy. University College Dublin academics are regular visitors to India and partners with top Indian universities including the University of Delhi, IIT Kanpur, IIM Bangalore and the University of Baroda.
"By setting up global centres, UCD will extend its activities beyond student recruitment. Their purpose is to provide a focal point for education, for alumni and diaspora community, for research and academic collaboration, for trade and intercultural exchange." the Minister added.
Speaking about the opportunities that will come from the UCD global centre in Delhi, the Deputy President of UCD, Professor Mark Rogers said: "Ireland and India hold education in very high regard and recognise the contribution education makes to economic prosperity.
The UCD global centre in Delhi will complement the activities of our Embassy here as well as Enterprise Ireland and the IDA, and foster greater ties between our two countries." The Deputy President said.
(Produced by UCD University Relations)