Posted 06 February 2015
Minister for Health, Leo Varadkar, Launches the UCD Beacon Hospital Academy
Minister for Health, Leo Varadkar TD, launched the UCD Beacon Hospital Academy today. This new centre for educating and training healthcare students of medicine, nursing, physiotherapy and radiography is the most comprehensive of its kind between a university and a private hospital group in Ireland with UCD students now able to take part of their clinical training at Beacon Hospital. The first of 20 UCD medical students will commence clinical training at Beacon Hospital in September 2015.
Speaking at the launch the Minister said:
"This UCD Beacon Hospital academy represents the most comprehensive partnership between a public university and a private hospital group and will undoubtedly contribute considerably towards the healthcare service by advancing the way in which many patients are treated using the most modern therapy techniques."

Pictured at the launch (l-r, front): Prof Andrew Deeks, President of UCD; Mr. Michael Cullen CEO & Chairman, Beacon Medical Group; Back row: Prof Mark Redmond, Chief of Staff at Beacon Hospital; Minister for Health, Leo Varadkar TD; Prof Des Fitzgerald, Principal of the UCD College of Health Sciences
The education and training at the UCD Beacon Academy will have a strong focus on interdisciplinary team work and rapidly emerging technologies. Through the UCD Smurfit Graduate Business School, UCD will also offer education programmes in healthcare management and leadership to Beacon Hospital.
UCD and Beacon Hospital will further partner on the development and deployment of technologies in connected health and personalised medicine. In the context of connected health, the focus initially will be on remote care for patients following orthopaedic surgery and with chronic conditions such as heart disease and diabetes. This entails the use of monitoring devices to gather information on patients' conditions and provide treatment while they are at home rather than in hospital. In personalised medicine, this will centre on molecular diagnostics in cancer, harnessing the expertise of UCD's Systems Biology Ireland. This groundbreaking technology is helping to better tailor therapies to individual patients.
Speaking at the signing of the agreement establishing the UCD Beacon Hospital Academy, Professor Des Fitzgerald, Principal of the UCD College of Health Sciences, said:
"We need our health professionals - doctors, nurses, physiotherapists and radiographers – to have more rounded knowledge, especially in emerging technologies and therapies and to have the interdisciplinary skills required by a modern health service. Our students and trainees will be recognised as the agents of change in healthcare, capable of harnessing and absorbing emerging technologies, role models in their professional fields, trained for interdisciplinary teamwork and global in outlook. We believe that this partnership with Beacon Hospital will complement the training and research we already carry out in our Ireland East Hospital Group and other partner hospitals."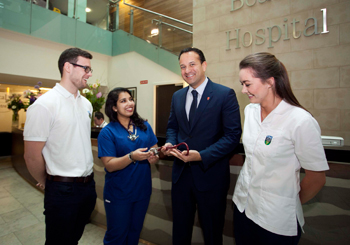 Pictured above (l-r): Robert Smith, UCD student; Dr Aziemah Ali; Minister for Health, Leo Varadkar TD; Mollie Bruton, UCD student

Professor Mark Redmond, Chief of Staff at Beacon Hospital said:
"We are absolutely delighted to be part of this pioneering initiative to combine the best of both public and private sector skillsets and we look forward to many years of educating future leaders in healthcare. Beacon Hospital has over 200 consultants and over 630 staff providing healthcare and we believe our partnership with UCD will create an enhanced environment for treating patients."
As a first step, the partnership will develop programmes for undergraduate and graduate medical students, initially for approximately 20 students in each of two clinical years of the UCD medical curriculum. Added to this are programmes for medical and nursing trainees, including interns and senior house officers as well as for other healthcare professionals, including physiotherapy and radiography.
Specifically in nursing, these include postgraduate programmes in oncology, emergency and critical care and specialist training in targeted clinical areas, advanced health assessment, health informatics linked to connected health, and applied leadership and management education.
The partnership will also harness UCD's applied research and technologies to develop two transformative concepts in healthcare that will make management and treatment more personal and precise.
"Personalised medicine is transforming healthcare and adding enormous value to modern clinical practice. The ability to identify the right treatment for the right patient at the right time has now become a tangible goal. Consequently, we have been transforming the education we give to our students so that they are trained as healthcare professions who can absorb and implement that new technology." Professor Fitzgerald said.
Connected health tackles the challenge of managing personal healthcare data arising from many sources, including remote sensing devices, to provide more personalised and efficient healthcare. UCD is the leader in Ireland's Connected Health R&D programme with the development of two major research centres, the SFI-funded Insight and the Enterprise Ireland-funded Applied Research for Connected Health. Both centres are working with healthcare and industry partners to develop healthcare data analytics and technologies for an increasingly digital healthcare system.
(Produced by UCD University Relations)