Posted 24 February 2015
Oscar-winning screenwriter of "Milk" and "J. Edgar", Dustin Lance Black honoured by UCD Law Society
Academy Award winning screenwriter and LGBT rights campaigner, Dustin Lance Black has been awarded Honorary Life Membership of UCD Law Society, University College Dublin.
Black, the writer of "Milk" and "J Edgar", is also a co-founder of the American Foundation for Equal Rights (AFER) which was pivotal in the abolition of Proposition 8 in California.
He was awarded the honour at University College Dublin in recognition of his storytelling achievements and his active campaigning for LGBT rights.
"It was an incredible honour to welcome Dustin Lance Black and Tom Daley to the UCD Law Society. Lance has been a leading advocate for same-sex marriage and equality in the United States over the last decade. His screenwriting works promote the right to equality that millions of LGBT men and women dream of achieving," said Ian Fahey, Auditor of the UCD Law Society, University College Dublin. "This award recognises his pioneering and inspiring campaigning for equal rights for all."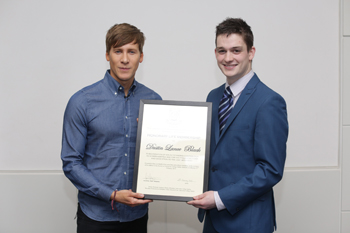 Dustin Lance Black presented with his award by Ian Fahey, Auditor of the UCD Law Society
In his acceptance address at University College Dublin, Black explained how "story" is the most effective way to change hearts and minds. He continued to tell his own story and how he got to this place.
In the inspiring and personal story that followed, Black, who grew up in Texas in the beliefs of the Mormon Church, described how he first told his mom he was gay and her earliest reaction to this.
"Loud and clear, what I heard in that silence was that it wasn't OK," he said. "That she was afraid for her son. What had she done wrong to break her precious boy and how could she fix this horrible problem. That's what that silence said, because that's what she'd learned, all of those years growing up the way she did." Soon afterwards, Black's mom openly embraced her son's sexuality.
Black's boyfriend, British Diving Champion, Tom Daley attended the award event at University College Dublin.

Previous recipients of the UCD Law Society Honorary Life Membership Award include: Martin Sheen, Patrick J. Adams, and Judge Judy.
(Produced by UCD University Relations)