Posted 07 May 2015
Minister Donohoe announces €2.5m in funding for UCD's 'Ulysses Centre'
City centre national literary attraction with great overseas appeal
The Minister for Transport, Tourism and Sport, Paschal Donohoe TD, has announced a €2.5 million grant from Fáilte Ireland's Capital Programme towards funding of the 'Ulysses Centre' - University College Dublin's proposed €10 million development of an international literary centre in Newman House on St. Stephen's Green, Dublin, which has already received a substantial philanthropic donation from Martin and Carmel Naughton.
This new attraction, developed by UCD in partnership with The National Library of Ireland is expected to be completed by the end of 2017, and will celebrate Ireland's rich literary history and renowned Irish writers.
The project will feature renowned Irish Writers such as Samuel Beckett, George Bernard Shaw, Seamus Heaney, Roddy Doyle and many others together with their stories in both permanent and temporary exhibitions. As part of the permanent exhibition, there will be a specific component celebrating the life and times of James Joyce.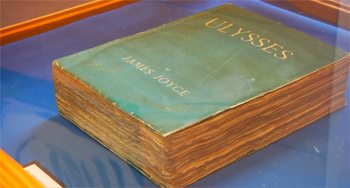 UCD Archives first edition copy of James Joyce's 'Ulysses'
"Ireland is known internationally for its great writers and this rich literary heritage is very attractive to overseas visitors. I believe that this project will significantly improve the overall visitor experience of tourists, both domestic and overseas, and their appreciation of that heritage and will allow us to bring the story of Ireland's literary heritage to life," said Minister Donohoe.
The project will see UCD Newman House redeveloped as a focal point for Irish literature and complement Dublin's status as a UNESCO City of Literature, one of only four such cities in the world.  This objective will be assisted by developing Newman House into a compelling, interactive and entertaining visitor experience through the use of the most up-to-date interpretation technology.
Welcoming the potential of the project, Fáilte Ireland CEO Shaun Quinn emphasised: "When completed, this new attraction will really improve the cultural appeal of Dublin and will be a fitting complement to the existing cultural attractions nearby, including the National Library, the National Museums and the National Concert Hall. This project is also a great fit for Fáilte Ireland's positioning of Dublin as a 'City of Words' and perfectly targets those culturally curious overseas visitors who we know would come to visit just such a centre."
As well as establishing itself as the international home of Irish literature and great writers of the past, the completed centre will also have relevance for the present and the future. Part of the centre's remit will involve telling the narrative of Irish writing and demonstrate its continuing vitality in new and stimulating ways by hosting a lively programme of events and co-creating content with living Irish writers to establish a standard of excellence.
Speaking today about their vision for 'The Ulysses Centre', the President of UCD, Professor Andrew Deeks said: "For over 160 years UCD has proudly pursued a literary tradition, with poets, playwrights, novelists and short story writers from Gerard Manley Hopkins to Austin Clarke, from James Joyce to Colin Barrett, from Frank McGuinness to Conor McPherson, and from Flann O'Brien to Maeve Binchy. We will develop the Ulysses Centre at Newman House as a rich resource for visitors to Dublin who will enjoy immersing themselves in this wonderful literary experience'.
Newman House was the first home of the university, set up by John Henry Newman in 1884.  It remains an important feature of the university today and the new centre will draw on beautiful décor of one of Dublin's finest Georgian buildings.
Having studied for his own BA at UCD in Newman House, James Joyce sets Stephen Dedalus off to study in the same hallowed rooms.  The new Ulysses Centre will take its inspiration from Joyce's vividness and this experience will bring visitors right into the heart of literary Dublin.
(Produced by UCD University Relations)