Posted 11 May 2015
Three student media awards make it a proud year for the University Observer
Three writers from UCD's University Observer took home an accolade each at the recent National Student Media Awards.
Leading the way was Grainne Loughran, who collected the prestigious Journalist of the Year award, while the paper's music editor, Sean Hayes, won Feature Writer of the Year in the arts and popular culture category.
The triple scoop was rounded off by Sarah Burke Vaughan who earned the Short Story of the Year award for her piece 'You Took Me To Neverland.'
The three winners were part of a 14-strong contingent of writers and journalists from the Observer while their peers in the CollegeTribune also picked up nominations in three categories.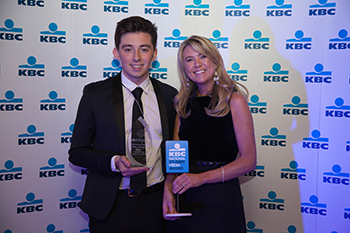 Sean Hayes, winner of Features Writer Arts & Pop Culture, pictured with Sarah Ridge, KBC Hub manager Stillorgan
Pictured far right: Grainne Loughran, named Journalist of the Year, pictured with Sarah Ridge
Loughran was keen to emphasise the significance of having student-run newspapers on campus, noting that "outlets like the University Observer and the College Tribune are invaluable to college life. Big universities like UCD really need forms of student media to reach out to students and faculty members, to inform and to raise awareness of issues that are relevant to us all."
She was also full of praise for her home paper and the contributions of her colleagues, stating that "the University Observer has a great tradition of student journalism and I'm really proud to be involved with it. Everyone on the team worked so hard this year and it was lovely for our work to be recognised with both nominations and wins."
The awards, also known as the Smedias, is an annual ceremony and covers a wide range of student media activities including print journalism, TV and film, photography, radio, animation and web design from across Ireland.
Over 1000 student journalists, broadcasters and producers were put forward for awards including members of UCD's campus radio station, Belfield FM, who received nominations in the Radio Production of the Year and Radio DJs of the Year categories.
In total, UCD students received 25 nominations across 17 categories. Former CollegeTribuneeditor, Cathal O'Gara, was also honoured with an Outstanding Achievement award for his six years of contribution to student media.
(Produced by UCD University Relations)