Posted 15 May 2015
UCD student athletes selected for World University Games in South Korea
Twelve UCD students have been selected to represent Ireland at the World University Games. The bi-annual event, the second largest multi-sport event in the world, will take place in Gwangju, South Korea, from 3rd – 14th July 2015.
Chloe Mustaki, Catherine Cronin, Ciara Grant, Dora Gorman, Julie-Ann Russell, Orlagh Nolan, Siobhan Killeen and Niamh Walsh will join up with the Irish women's football team while Alan McGreal will take his place in the men's football squad.
Of those chosen for the women's football team, six play for UCD Waves, including FAI senior women's Player of the Year, Julie-Ann Russell. Their selection comes as a well-earned reward for the Waves players whose season recently ended with a second place finish in the league and an FAI Cup final appearance.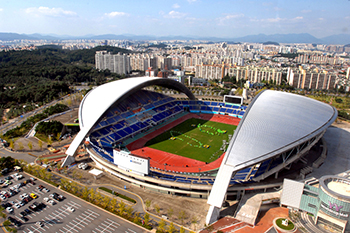 Gwangju Universiade Main Stadium (World Cup Stadium)
Pictured far right: Nambu University International Aquatics Center
Four of those selected for the Irish women's football team (Cronin, Grant, Gorman and Killeen) kitted out for Ireland at the 2013 iteration of the games in Kazan, but for the others it is the first time they will represent their country at the event. The announcement arrives on the back of the recent news that UCD AFC will be bringing their brand of passing football to the continent with their entrance into next season's Europa League.

In swimming, UCD students Alex Murphy will compete in the breaststroke, Shani Stallard in the individual medley, and Shauna O'Brien in the breaststroke, individual medley, and freestyle.
(Produced by UCD University Relations)