Posted 11 June 2015
UCD student selected for NASA internship programme
A master's degree student at UCD will get the opportunity of a lifetime to carry out scientific research at NASA, after he was selected for a international internship programme which involves spending 10 weeks at the iconic space agency's world-renowned AMES Research Centre in Silicon Valley, California.
Conor O'Toole (22) from Trim in Co Meath, who is completing his MSc in Space Science and Technology at University College Dublin, was selected for the placement on a competitive basis from a pool of nominees.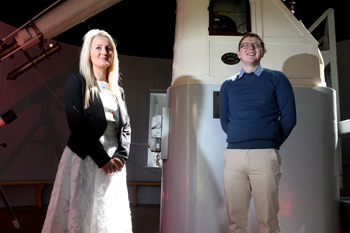 The two Irish graduate students selected for the international internship programme with NASA: Lauren McKeown, Trinity College Dublin and Conor O'Toole, University College Dublin
He will be joined by Lauren McKeown, a PhD student at Trinity College Dublin who was also successfully selected for the programme.
Conor was nominated for the programme by Professor Lorraine Hanlon from the UCD School of Physics. He is fascinated by black holes and their extraordinary properties.
Following his MSc, he plans to undertake a PhD in space-based gravitational wave astronomy, which involves the search for ripples in space-time predicted by Einstein's theory of general relativity.  These gravity waves have never been directly observed by astronomers, and by measuring subtle changes in their arrangement, scientists hope to eventually detect changes in space-time caused by gravitational waves.
Conor said the internship at NASA is "invaluable" as it enables him to gain experience at the heart of the space industry.
"Going on to work in space-based gravitational wave astronomy would let me combine my interest in black holes with that in space science," he said.
"It's an exciting new field with a lot of potential for really interesting discoveries. The European Space Agency's planned mission, LISA (or NGO to use the official name), will be the first space-based gravitational wave detector though it isn't planned for launch for almost 20 years. Being involved in that mission, in any way, would be my dream."
The internships are provided by NASA and supported by the Irish Research Council under a Partnership Agreement between the two organisations. They run from 15 June to 21 August 2015.
At
AMES Research Centre
in Silicon Valley, California, the two Irish students will work on specific projects and will be part of a cohort of interns from around the world.
(Produced by UCD University Relations)