Posted 23 June 2015
New book casts fresh light on the classic work of James Joyce
If Leopold Bloom undertook an odyssey of Dublin then editors Professor Anne Fogarty and Professor Fran O'Rourke have run a gamut in their new collection of essays Voices on Joyce, published by UCD Press.
Spanning twenty chapters within four overarching categories, this multidimensional book is a fascinating investigation of the varied and extensive influences that informed the prose of one of Ireland's literary heroes.
The editors have made an explicit effort to approach Joyce's work from a wide angle, and have thus drawn upon specialists from beyond the UCD School of English, Drama and Film as well as within it.
Historical Perspectives provides Professor Cormac Ó Gráda a category within which he seeks to identify the real-world inspiration for the character of Leopold Bloom and asks "whether a closer look at the history of the Jewish community in Dublin can shed any light on [Bloom's] real alter ego."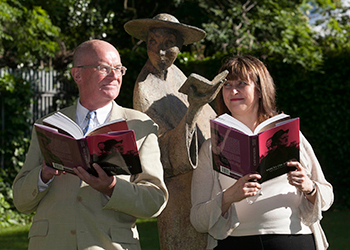 Pictured above: Editors Prof Fran O'Rourke, UCD School of Philosophy and Prof Anne Fogarty, UCD School Of English, Drama & Film
Owing to the ambitious breadth of the collection, we are afforded a chapter written by Justice of the Supreme Court of Ireland, Adrian Hardiman, who informs us that Ulysses is peppered with criminal intrigue and references to legal cases — at least 32 — and how Joyce demonstrates a curious interest in how the nascent 'Yellow Press' impacted upon public perception of these judicial matters.
Professor Emeritus Donal McCartney's essay on Joyce's UCD allows us to peer back beyond a hundred years into the examination books of Joyce himself. The results he finds are perhaps not those you would expect of a scribe of such stature — in his matriculation exam, Joyce received 60% in English while, during his final year in UCD, he was rewarded with 43% in the same subject.
Dublin and Joyce examines our subject's well-established attachment to Dublin — an attachment illustrated by his use of the city as a recurring character throughout his career. With Ulysses, former Dean of Arts in UCD and urban geographer, Dr Joseph Brady, tells us how Joyce had hoped that if Dublin "one day disappeared from the earth it could be reconstructed out of my book."
Dr Brady questions the veracity of Joyce's aspiration, noting how, in Ulysses, "The streetscape is not delineated, the extremes of poverty and wealth of the population not well captured nor is the peculiar relationship between the city and the suburbs."
Elsewhere in the Dublin and Joyce section, Professor Emeritus of Anatomy, Conal Hooper, examines the role of sport in the Rathgar-man's magnum opus. According to Hooper, Joyce's mastery of language in Ulysses was evident in his ability to write about a diverse range of sport and doing so with genuine care. One glowing reference notes how his coverage of pugilist duels "would do credit to a professional boxing reporter."
Sport also provided an opportune subject for the use of puns — Lawn Tennyson being just one fine example.
Joycean Intertexts brings to the fore the literary and philosophical influences which impacted most significantly on Joyce as a writer. Professor Fran O'Rourke dissects his connection with the classics of Ancient Greece and, in particular, Aristotle.
While Joyce's Homeric inspiration is profound and explicit in Ulysses, his admiration for Homer's intellectual descendants is also evidenced by Prof O'Rourke who sets out to find how this connection was made. Clearly, he argues, much of this was likely due to his Jesuit education but to stop there would be to miss an important cultural relic that hitherto may have been less known.
As it turns out, the wisdom of Aristotle was inculcated outside as well as inside the classroom. O'Rourke cites a German visitor to Ireland in 1843, who stumbles across a Kerryman sitting in the bow of a boat reading a manuscript. "Some of it," the man said, "he had inherited from his father and grandfather," and within it was contained "beautiful old Irish poems, histories of wonderful events" and a "treatise by Aristotle on some subject of natural history!"
In the Contesting Joyce category, Professor Declan Kiberd states in his essay that though "Ulysses is seldom treated as part of the literature of the Celtic Revival, it may well owe its initial inspiration to that movement." He supports this with a wishful quote from Joyce:
"Had we been allowed to develop our own Celtic civilisation instead of this mock-English one imposed on us, and which has never suited us, think of what an original, interesting civilisation we might have produced."
Prof Kiberd credits Joyce with bringing to the page "that form of writing now known as magical realism," comparing it to the style which emerged from and was "most fully adopted in Latin America, India and Africa," where the onset of colonialist culture served to diminish the developmental potential of the form.
Interspersed throughout Voices on Joyce are images by the American photographer, Lee Miller, taken in Dublin in the 1940s during an assignment for the US edition of Vogue. The photos are themselves a wondrous bonus to what is a comprehensive compendium of highly inquisitive and rewarding essays.
(Produced by UCD University Relations)