Posted 01 July 2015
Software firm at NovaUCD secures €1 million investment
A financial software company headquartered at NovaUCD, the university's hub for new ventures and entrepreneurs, has secured a €1-million investment.
Corlytics Limited also plans to more than double its staff numbers to 30 people, to support its growth plans.
The majority of the investment in Corlytics was made through the Bank of Ireland Seed and Early Stage Fund, which is managed by Kernel Capital, and co-investors Enterprise Ireland. The remaining funding was raised through the firm's founders and a number of angel investors.
Founded in 2013, Corlytics has developed a platform that enables global financial institutions to identify avoidable losses and fines.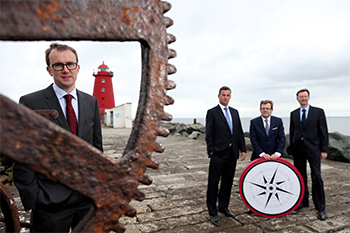 Pictured above: Ger Goold, Partner, Kernel Capital; David Mountjoy, Senior Manager, Corporate Banking Ireland, Bank of Ireland; John Byrne, CEO, Corlytics Ltd and Leo McAdams, Manager of Financial Services, Enterprise Ireland
The company's software empowers banks to minimise regulatory breaches by using predictive risk analytics applications to evaluate, benchmark and manage market risk.
It aids financially regulated firms, regulators and their professional advisers in uncovering and predicting avoidable compliance and operational risk within the financial markets.
Compliance risk can cost banks up to $4 billion annually, and financial institutions have invested a lot more resources in trying avoid fines since the financial crisis.
John Byrne, CEO, Corlytics Limited, said his staff are very excited about the company's prospects in this new growth market.
"We are delighted to have a partner like Kernel Capital who, together with Enterprise Ireland, have been vital in helping us prove our solutions with key initial clients," he said.
The company, which also has offices in London, New York and Boston, currently employs just 11 staff in Dublin.
In addition, Mr Byrne said Corlytics intends to recruit legal graduates at master's degree level, banking analysts, statisticians and data scientists.
"We are trying to build people that have a multidisciplined set of legal and compliance, banking analysis and data science skills," he added.
Welcoming the announcement, Leo McAdams, Manager of Financial Services, Enterprise Ireland, said the "expansion plan will enable Corlytics to further consolidate its presence in key export markets".
Corlytics' proprietary data and real-time technology empower their clients to predict, benchmark and perform analytics on costly regulatory breaches.
The software company comprises a unique combination of legal and regulatory experts, proven securities and risk practitioners, leading data scientists and seasoned technologists.
NovaUCD, the hub for new ventures and entrepreneurs at University College Dublin, nurtures and supports new high-tech and knowledge-intensive companies as part of UCD's mission.
(Produced by UCD University Relations)