Posted: 04 April 2006
Irish patients play their part in the human genome project
Tanaiste and Minister for Health and Children, Ms Mary Harney TD officially opens UCD-Mater Genome Resource Unit
In 1953 biologists James Watson and Francis Crick first described DNA's double helix – the molecular structure that looks like a spiral ladder and carries our hereditary, our genetic information. Fifty years later, led by Francis Collins and Ari Patrinos, the huge international effort to sequence the 3 billion DNA letters in the human genome was completed; opening up fantastic possibilities for healthy well-being and disease treatment for this and future generations.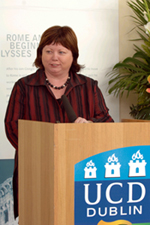 Tanaiste and Minister for Health and Children, Ms Mary Harney TD pictured at official opening of UCD-Mater Genome Resource Unit
All of the sequence data generated by the Human Genome Project has been deposited into public databases and made freely available to scientists around the world, with no restrictions on its use or redistribution. The Genome Project has presented biomedical researchers with a whole new tool box to help understand the molecular mechanisms that underpin disease initiation and progression.
All diseases have a genetic component, whether inherited or resulting from the body's response to environmental stresses like viruses or toxins. The sequencing of the human genome has enabled researchers to pinpoint errors in genes - the smallest units of heredity - that cause or contribute to disease.
The ultimate goal is to use this information to develop new ways to treat, cure, or even prevent the thousands of diseases that afflict all of us. But the road from gene identification to effective treatments is long and fraught with challenges.
Here in Dublin, scientists and doctors work in tandem, using the genome project to help real patients with real diseases. At the UCD-Mater Genome Resource Unit at the Mater Misericordiae University Hospital the goal is "translational research". This bench-to-bedside research approach seeks to substantially reduce the time from disease discovery to appropriate treatment by harnessing the power of genome sequence and new technologies. The data gathered in Dublin and the research carried out feeds back into the international effort so that others working on similar diseases can benefit from and compare the findings with their own patient populations.
The Tanaiste and Minister for Health and Children, Ms Mary Harney, TD, officially opened the UCD-Mater Genome Resource Unit on Monday 3 April 2006 and met with patients who have volunteered to play their part in the international human genome project.
Within the UCD-Mater Genome Resource Unit patients with many different chronic diseases including end stage kidney disease, pulmonary fibrosis and cancer visit the clinic at regular intervals and donate samples, which are assessed in the context of their own treatment and for the development of more accurate therapies for these diseases in general.
The gene and protein composition of samples from patients is compared to non-disease samples allowing researchers to identify those molecular changes that drive the disease process.
The UCD-Mater Genome Resource Unit at the Mater Misericordiae University Hospital (MMUH) was funded through an award of nearly €6 million to the Dublin Molecular Medicine Centre from the Higher Education Authority's Programme for Research in Third Level Institutions. The Dublin Molecular Medicine Centre (DMMC) is a collaboration between University College Dublin (UCD), Trinity College Dublin and the Royal College of Surgeons in Ireland.
"Our goal is to further develop translational medicine infrastructure and expertise at the Mater Hospital site." Said Dr Peter Doran, director of the GRU. "Our clinical research helps discover ways to improve medical care and to establish new treatments which in turn will improve the quality of life for patients who are living daily with chronic illness.
All staff in the GRU will contribute to ongoing research creating a scientific but caring culture for the benefit of present and future patients. Medical research not only develops new cures and better treatments, but also provides us with better ways of caringTranslational research at the GRU is a truly multidisciplinary team effort. Doctors, nurses, technicians, scientists and indeed patients are all working together, striving towards the common goal of developing new cures for chronic diseases. In particular, patients play a key role. Through the donation of samples for molecular research
patients are making an immense contribution to our efforts to
understand the mechanism of disease and effect improved patient outcome into the future"
This clinical facility serves to complement UCD's Conway Institute for Biomolecular and Biomedical Research, ensuring UCD's biomedical research focus is a continuum from bedside to benchside. The GRU helps to develop and grow dynamic bi-directional links between the basic scientists and clinician investigators who share the common goal of improving patient care and patient outcome.
Although patients who volunteer for the clinical research can
participate in phase II and phase III drug trials and consequently gain access to promising drugs long before these compounds are approved for the marketplace, they understand that even with the human genome project, effective treatments can take many years to refine.