Posted: 10 April 2006
UCD Research team develops new model to enable the study of fatal form of leukemia.
Significant progress has been made by UCD researchers into the study of a fatal form of leukemia, Adult T-cell leukemia-lymphoma (ATLL). Research carried out by Professor William Hall, Director of the National Virus Reference Laboratory and professor in the UCD School of Medicine and Medical Sciences, has resulted in the development of a working model of the disease that may enable researchers to unravel the steps that cause ATLL and other leukemias.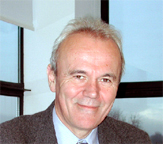 Professor William Hall
While approximately 20 million people worldwide are infected with the virus, between 2 and 5 per cent will get ATLL. ATLL generally occurs in individuals around the time of birth but does not present for between 20 and 60 years, "a latency period that makes studying its development extremely difficult", says Professor Hall. It is known though, that the development of ATLL is linked to a protein called Tax, which can turn normal T-cells into cancerous cells.
In order to understand the role of Tax in the development of ATLL, Professor Hall generated an animal model. A report published in the journal Nature Medicine describes how Hall and his research colleagues generated HTLV-1 Tax transgenic mice by putting the Tax gene into the mice chromosomes.
"We controlled the expression of this gene to the thymus of the mouse and this produced a leukemia identical to the human disease", says Hall. "Although we had a model mimicking exactly the human disease, this still took 12 to 24 months which was too slow". To speed things up the leukemic cells from the transgenic mice were transferred to mice with severe combined immune-deficiency (SCID) and they developed extremely aggressive leukemia in just four weeks.
This is a highly significant development since the model accurately reproduces the human disease. "The animal model of leukemia will now allow us to understand the mechanisms of how the disease develops, which in turn will allow us to produce and test more effective and targeted drugs ", says Professor Hall.