Posted: 18 April 2006
Talks 'by students, for students' prove successful at UCD Open Days.
Over 15,000 second level students, and 400 teachers and career guidance councellors travelled to the Belfield campus to attend UCD open days in March. The majority of these students will apply for their chosen third level programmes through the CAO in January 2007.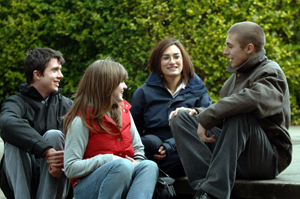 UCD Students on Belfield Campus
UCD open days are designed to give prospective students the opportunity to meet with staff and students so that they can properly explore and enquire about the academic programmes and career options open to them at UCD - in particular the new opportunities available through UCD Horizons, UCD's modular undergraduate curriculum.
A series of talks run 'by students, for students' proved a great
success at the March open days and will be expanded for future events.
At the recent open days, prospective students sampled the atmosphere at UCD as they took the time to experience what life as a UCD student might be like for them. They visited the on-campus student residences, the sports facilities and the many campus venues that hosted on-site talks and displays for the event.
The new UCD Conway Institute of Biomolecular and Biomedical Research building was open to visitors on both days. The original 1,676sqm building which has recently been expanded by a further 9,617sqm houses classrooms and laboratories which offer a premier educational environment for undergraduate students of the life sciences in Ireland.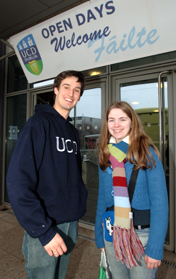 The new Centre for Synthesis and Chemical Biology was also open to visitors on both days. This 2,300sqm building comprises six state-of-the-art laboratories for synthetic chemistry and mass spectrometric and nuclear magnetic resonance (NMR).
The award for the best Programme Area Exhibition was presented to Engineering and Architecture. And the best Student Experience Exhibition was awarded to the Accommodation Office.
Further information on our range of undergraduate programmes is available at www.ucd.ie/horizons