Posted: 27 April 2006
Six student media awards for UCD
UCD student newspaper, The University Observer, scooped five awards, including newspaper of the year, journalist of the year (Sorcha Nic Mhathúna), news and current affairs writer of the year (Billy Jones) and sports writer of the year (Alan Burns), at the National Student Media Awards 2006 in Dublin last night.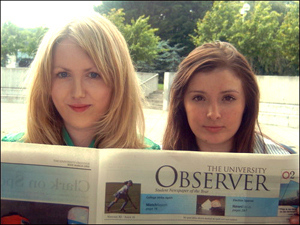 Sorcha Nic Mhathúna (left) and Nathalie Márquez Courtney
of UCD's University Observer
Other student media awards for UCD on the night included Simon Ward for layout and design (UCD's College Tribune) and John Holten for the short story category.
The editors of the University Observer, Nathalie Márquez Courtney and Sorcha Nic Mhathúna were overjoyed with their success at this year's awards. Both Nathalie (Arts and Human Sciences) and Sorcha (Business and Legal Studies) are recent UCD graduates.
The University Observer has won the newspaper of the year award more than any other student newspaper in Ireland. With over 250 UCD students contributing to the fortnightly publication, it is distributed throughout the UCD campus. Next years editors have been named as Stephen Carroll a Law and European Legal Studies student (editor) and Michelle McCormick an Arts and Humanities student (deputy editor).