Posted: 25 April 2007
UCD Rugby stay in 1st division

UCD Rugby retained their 1st Division status for a seventh year by defeating Belfast Harlequins 6-3.
On 26 April, cheered on by a huge number of alumni and the entire Junior and Under 20 squads wearing their Club jerseys, UCD played scintillating rugby in the first half with Ian Keatley and Sean O'Brien making frequent line breaks. However, despite creating three clear chances, a combination of nerves and impatience left the UCD side scoreless deep into the half. When Darren Cave kicked a 38th minute penalty for Harlequins after UCD had missed two earlier kicks, one of which hit the post, it seemed as if this could be a disappointing day.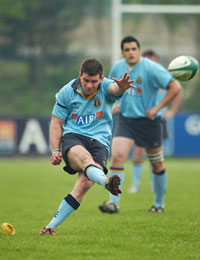 Ferguc McFadden kicking the winning penalty
However, UCD retained their momentum and despite Ian Keatley hitting the post with a drop goal Fergus McFadden equalised with a penalty. Constant UCD pressure from the tireless UCD pack allied with some powerful running by the backs stretched the well organised Harlequins defence to the limit. With time running out and the scores tied Referee, George Clancy awarded UCD a penalty. Thirty metres out and 15 in from touch McFadden slotted over the kick to huge cheers from the home fans.
Four minutes later the final whistle went, the pitch was invaded and the victors celebrated another year in Ireland's top echelon of Club Rugby.
The UCD side:
Ross McCarron, Killian Lett, Fergus McFadden, Michael Hastings, Rob Kearney, Ian Keatley, Paul O'Donohoe, Brian McGovern, Conor Geoghegan (Capt), Keith Doyle, Conor McInerney, Richie Mandeno, Kevin Sheahan, Kevin Croke and Sean O'Brien

Replacements:
Conor Mitchell, David Gilchrist, Arthur Houlihan, Vasily Artimiev and Brian O'Neill
In other sports news:
UCD Women's Volleyball Win the Association Cup Final
UCD 3 – Newbridge Wildcats 1
UCD Secure Win over Garda in Dublin Championship Opener
UCD 4-15 GARDA 0-2
UCD Men's Hockey Back in the Big Time
Railway Union 1 – UCD 3
Purcell Strike Earns Superb Win for Soccer Team
UCD 1 – Derry City 0