IUTAM Symposium on Impact Biomechanics: From Fundamental Insights to Applications.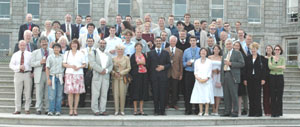 Group photograph of delegates
who attended the symposium dinner.
UCD hosted a major conference from July 11th-15th on the subject of impact biomechanics and thereby helped to define future research challenges for the international scientific community on this important topic. This event, which was organised and chaired by Prof. Michael Gilchrist of UCD's School of Engineering on behalf of the International Union of Theoretical and Applied Mechanics (IUTAM) and the Royal Irish Academy, successfully bridged disparate areas of mechanical engineering and clinical medicine and stimulated closer interactions between the 100 delegates and speakers from 19 different countries.
Current scientific problems in the area of impact biomechanics which were addressed during the course of the conference include issues pertaining to constitutive materials, including those related to soft and hard biological tissue and novel energy absorption materials, as well as experimental, theoretical and mathematical modelling approaches that may be used to enhance our understanding of the impact response of biological systems. The conference paid particular attention to how the various limbs, organs and tissues of the human body would respond to moderate or severe impact forces or to blast loads, and how appropriately designed injury protection systems could reduce injury severity and the number of fatalities. Papers presented at the conference were published by Springer following international peer review and the book of proceedings forms part of their Solid Mechanics and Its Applications (SMIA) series of monograph.