Cuddihy shows major progress at European Championships
Joanne Cuddihy's eight place finish in the 400m at the European Championships displays her continued determination to become a new star in Irish and international athletics. This was the first time since 1962 that an Irish female athlete had reached the European Championships final of the 400m.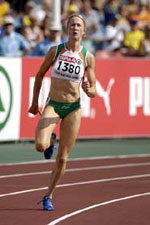 Joanne Cuddihy
Coming off over eighteen months of injury and illness, Cuddihy finished in 51.46 seconds. The title went to Vanya Stambolova of Bulgaria who passed the line in 49.85 seconds.
Cuddihy returns to UCD next week to continue her medical studies. She hopes to take a year out next March to prepare for the Beijing Olympics.
Former UCD sports scholar, Derval O'Rourke will run in the semi-finals of the women's 100m hurdles in the European Athletics Championships on Friday, 11 August. And on the same day, Deirdre Ryan, who is also a former UCD sports scholar, will compete in the finals of the High Jump.