UCD President welcomes pioneering budget initiative
UCD President Dr Hugh Brady welcomed what he called "The pioneering initiative" signalled by Finance Minister Brian Cowen in his budget speech. Dr Brady was referring to the commitment made in the budget to the establishment of 4th Level Ireland. This will see major investment of €1.2 billion by government in the promotion of research and innovation in the Irish higher education sector over the period 2006-10. This sum, committed to in the first part of the Minister's budget speech, is made up of €300 million for the new Strategic Innovation Fund, championed by Minister for Education Mary Hanafin to support change and reform programmes at third level. The balance of €900 million will be made up of funding of capital and infrastructure developments in the sector.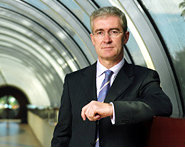 Dr Hugh Brady, President, UCD
Dr Brady welcomed Minister Cowen's "words from the mind and the heart" that it was Ireland's intellectual capital which was the single greatest contributor to Ireland's recent economic success.

"It is both inspiring and challenging to hear the Minister say that the Irish higher education system of today is the basis for the jobs of tomorrow. His words about the need for commitment to reform and the elimination of unnecessary duplication were characteristically direct – but I am confident there is nothing in them which will unnerve UCD or the sector as a whole" he continued.

Dr Brady referred to the pre-budget submission made by the Irish Universities Association which described 4th Level Ireland as delivering

"(A) very different higher education sector; one which will be characterised by flexibility, responsiveness and innovation as well as by a fresh retrieval of the best elements of Ireland's eminent tradition in this sector".

Key elements of 4th Level Ireland will be:
Core Masters and PhD programmes;
Feeder pathways which will enhance access to the best of university education;
New programmes of lifelong learning and skills development;
Strong links to external stakeholders;
Investment in the arts, humanities and social sciences to promote the research, scholarship and creativity to complement scientific, technological and commercial advances;
Coordinated trans-institutional approaches to the provision of key enablers such as human resources, IT and other infrastructure.
Re-iterating what he called "the core message" of the Irish Universities Association submission, Dr Brady continued:

"Knowledge is and will continue to be the key to Ireland's future; the new Ireland which we are working together to create will be a society and economy founded and grounded on knowledge. It is investment in education and cutting-edge research which will secure and expand our ability to absorb, generate and harness new knowledge. This investment will make us more prosperous in economic terms and make for us a healthier society through the innovative application of new knowledge to public policy and services. The new Ireland will be created by the young people of today. Through a reformed, innovative 3rd level, the universities will produce a new breed of entrepreneurial 3rd level graduates entering and improving the workplace and the wider society.

For too long, Brady concluded, Irish Higher Education has been the poor relation in terms of education funding, with its vision and objectives being set in a bizarrely politicised opposition to the needs of primary and secondary education – instead of recognising that the past, present and especially future of Irish education lies in its being a continuum of excellence, spanning primary to, now, 4th level. We have reached a crossroads moment where significant investment is needed – and now, thankfully, has been committed, to support and advance the reform process at 3rd level and to progress the development of an Irish 4th level sector which will make a huge impact nationally and internationally."

The Irish Universities Association submission spells out how the universities will contribute at two levels:
At 4th level, with a dramatic improvement of performance in research and the output of highly-skilled graduates with doctoral qualifications and post-doctoral experience;
At 3rd level, with a radically improved system to support the fundamental changes required to ensure graduates are equipped for a lifetime of innovation and change.

Case Study 1: Developing the new PhD programme

The Old Model – Typical Traditional PhD Experience
PhD student enrols with a researcher supervisor to work on a highly focused research project and, depending on his/her research productivity, graduates anywhere between 3-8 years later without any formal training in broader research methodologies or management skills.

The New Model – Typical Structured PhD Programme
3rd level students excited about research through a reformed curriculum that emphasises creativity, discovery and knowledge advancement and that mainstreams research elective ('sampler') opportunities;
Top international students attracted to Irish PhD programmes by innovative marketing, the provision of scholarships, high quality pastoral support, and the reputation of Ireland's research community;
First year of PhD programme dominated by structured 'taught courses' in generic and domain-specific areas organised on a trans-institutional basis;
Decision point at end of first year when student has the option of either graduating with a masters degree or progressing to a full PhD degree;
Years 2-4 of PhD training characterised by a high quality research experience supplemented by formal training in key technologies, management and communications;
Formalised career development and, where relevant, targeted skills enhancement visits to partner international centres and external work placements;
Course content and oversight of the quality of the student/supervisor relationship by trans-institutional Boards of Studies involving both academic staff and external stakeholders;
Research and taught components underpinned by a dedicated core of administrative, technical and support staff and by leading edge technology platforms and capital infrastructure;
Following graduation and entry into the workforce, continued access to key taught courses in emerging areas through either e-learning or new 'refresher' courses tailored for lifelong learners.
Case Study 2: The New Graduate

The Old Model

The traditional degree programme:
Accessed almost exclusively by school-leavers;
Pursued at a single institution, with learning opportunities at other institutions closed to the student;
The focus is on pursuing a fixed curriculum with little choice or flexibility, traditional, large-group teaching approaches, minimal adoption of educational and e-learning technology;
Where the curriculum fails to keep pace with new interdisciplinary areas of study underpinning key areas of innovation;
Where there is little opportunity to broaden education beyond the core subject area of the degree, leaving students ill-prepared for the challenges of change encountered in a rapidly evolving society;
Traditional teaching approaches;
Learning is a solitary activity, with little development of teamwork and project management skills.

The New Model

An open and flexible set of learning opportunities provided by a number of institutions preparing graduates for work and lifelong learning in the knowledge economy, where:
The recent advances in educational technology are fully exploited so that many traditional classes are enhanced by sophisticated multimedia presentations, available anytime, anywhere;
Learning resources are provided across many institutions, including electronically archived classes and lectures from those institutions;
An environment where small-group interactive learning is the norm rather than the exception;
Students are able to move where necessary between institutions and between sectors (universities, institutes of technology, further education) as required to pursue their specific learning pathway;
Degree programmes are flexible and responsive, allowing subjects and disciplines to be combined to prepare students to work in new and emerging areas at the forefront of knowledge and innovation;
Creative teaching and assessment strategies to encourage group learning and teamwork;
Students have access to innovative courses that will specifically prepare them for a working life in a vibrant knowledge economy, including skills in business, management, economics, technology, ethics and civic/social responsibility;
Learning approaches recognise that the primary purpose of university education is to develop skills for lifelong learning at advanced levels.

STATEMENT BY THE IRISH UNIVERSITIES ASSOCIATION
ON THE BUDGET
GROUND-BREAKING INVESTMENT PACKAGE FOR FOURTH LEVEL IRELAND WELCOMED
The Irish Universities Association warmly welcomes today's ground-breaking Budget statement by the Minister for Finance on investment in "Fourth-level Ireland
IUA President Ferdinand von Prondzynski said "Minister Cowen in his ringing endorsement of the pivotal contribution of higher education to the country's economic success and its fundamental strategic importance to future economic and social development had set a unique setting for a highly significant investment package for higher education"
He added "the Budget statement heralds a vitally important development phase for higher education and research and is a strong signal of the Government's commitment to creating a highly competitive Irish university system of top international ranking"
The University Heads are encouraged that the Minister recognises that the benchmarks for performance and investment at third and fourth levels are international.
They see the strategic innovation fund as a bridge to further investment in the national research plan and the national development plan.
The announcement of a strategic innovation fund, the commitment to a multi-annual rolling capital programme, the forthcoming national research plan and the priority to be given to higher education and research as a key strategy in the next national development plan, together provide a considerable boost for a comprehensive transformation of the university sector.
The University Heads are particularly encouraged that the Government views these developments as a coherent package of strategic initiatives with a synergistic potential that must be exploited in order to maximise the contribution of universities to economic and social progress.
They wish to assure the Government that they are fully committed to meeting the reform challenges identified by the Minister for Finance, to collaborating to develop critical mass in excellence, to maximising effectiveness across the higher education system and to working in partnership with Government to achieve national objectives.
The IUA looks forward to a statement to be made by the Minister for Education and Science giving further details on the Government's initiatives.

>> More News and Events
<< Back to Home