International Award for UCD Professor
At its inaugural awards ceremony during its recent conference, the Valencia Summit honoured Professor Tony Meenaghan of the UCD College of Business and Law, for his work in the field of corporate sponsorship. Professor Meenaghan is regarded internationally as one of the leading figures in this field. He is the author/editor of several books, monographs and articles in leading business journal on this topic. He has previously worked with major international bodies such as the World Federation of Advertisers and the International Advertising Association (World representative bodies for advertisers and advertising agencies respectively) and ESOMAR (Representative Body for Market Research in Europe) on this topic of commercial sponsorship and his publications are the most widely cited in this field. His most recent work is concerned with measuring the effectiveness of sponsorship - a topic which continues to generate considerable debate and interest in marketing and business circles.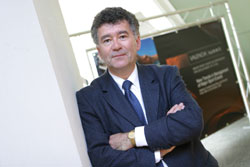 Prof Tony Meenaghan
The Valencia Summit (organised by ESADE, Barcelona), focusing on business and sport, is a major international gathering of figures from academia, sports organisations, sponsors and host cities to major sports events. The theme of this year's conference was "Major sports events as opportunities for the development of cities". Given the hosting of major events, such as the Ryder Cup in Ireland in 2006, the conference theme was particularly apposite.
Despite a sense that currently sponsorship is omnipresent, large scale sponsorship expenditure is a relatively recent phenomenon. In 1970, only £4m was spent on sponsorship in the UK, today that figure is in excess of a £1 billion. Worldwide expenditure on sponsorship is currently estimated to be in excess of US$30 billion. When promotional spending to support and leverage sponsorship investments is included, these figures rise substantially to indicate a substantial and rapidly evolving global industry.
Sport represents the largest destination for sponsorship investment and the importance of sponsorship to sport is clearly illustrated by the funding of the Sydney Olympics. Total revenue generated during the Olympic quadrennial 1997-2000 was approximately US$3 billion. Some 45% of this figure came from the sale of broadcast rights, which were largely funded by advertisers and sponsors seeking access to the global audience generated by the Olympic Games themselves. Global and local sponsorship contributed 34% of this revenue while ticket sales (19%) and licensing (2%) accounted for the balance of revenue. In the case of an individual club such as Manchester United, sponsorship funding is also critical to its business success. In 2004, gate receipts and television rights were each responsible for 36% of total revenue while commercial revenues, involving sponsorship and merchandising, accounted for the remaining 28% of total club revenue. Closer to home, a major sports organization such as the GAA benefited from some euro 8m in direct sponsorship funding in 2005 and indirectly from the marketing and promotional activities of its sponsors.
The scale of individual company spending on sponsorship is indicated by the recent decision by Coca-Cola to extend their sponsorship arrangement with FIFA to sponsor the Soccer World Cup until 2022 for a reported $500 million. When support spending is added, this will represent a commitment of several billion dollars by just one of many sponsors on a single, though substantial global, sports event.

>> More News and Events
<< Back to Home