Thousands of students come to hear what UCD
has to say at Open Days
Over the course of two days, Fri 9 and Sat 10 December, over four thousand leaving certificate and mature students descended on the UCD campus to visit Open Days where they could discover more about the university and its new modular curriculum: UCD Horizons. Having already heard about the new modular curriculum at UCD, students wanted to get answers to their questions straight from the horse's mouth. They wanted
answers that would allow them to plan their academic future in light of the new opportunities at UCD.

Pictured at UCD Open Days: With the help of Dr. Gareth Dyke, UCD School of Biology and Environmental Science (left), Rose of Tralee, Aoibhinn Ni Shuilleabhain (center), who completed her first-class UCD honours BSc degree in Theoretical Physics in Summer 2005, explains the excitement of studying science at UCD to visiting leaving certificate students
More than fifty information stands with displays and demonstrations were constructed in UCD's O'Reilly Hall to accommodate the five colleges, thirty-five schools, services and other facilities that now make up the university. Top academics, lecturers and professional researchers were available at stands to meet with browsing students who
wanted to discuss how best particular academic disciplines matched their career ambitions.

Pictured at UCD Open Days: Dr Brian Glennon (Right), Senior Lecturer, Interim Vice-Principal for Teaching & Learning, College of Engineering, Mathematical & Physical Sciences meets with visiting leaving certificate students. The Formula style racing car featured in the photograph is designed and built by UCD Engineering Students as part of a yearly international competition in which 40 competitors from Europe and America conceive, design, fabricate and compete with small Formula style racing cars
Visiting students could also attend open talks and Q&A sessions at various times over the two days. Among the topics of discussion were Science, Health Science, Nursing, Arts, Celtic Studies, Human Sciences, Admissions and Careers.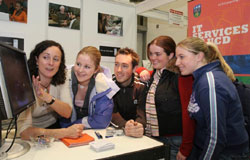 Pictured at UCD Open Days: (Left) Niamh Milne, Information Officer, UCD Computing Services, and (center) Andrew Kearney, UCD Computing Services, in discussion with visiting leaving certificate students
On both days, Professor Aidan Moran gave a talk that was particularly valuable to those students considering study at third-level. This talk titled "Succeeding in University: Practical Tips on Effective Learning" gave student listeners a taste of what it actually means 'to think like a university student.' A taste of what it means to question information presented to you rather than to merely accept it as a given truth. Adopting this new mindset would be critical to a student's success at
university.
Speaking at one of the open talks, Prof Gerry Doyle, UCD Dean of Undergraduate Studies, said '…with modular programmes the opportunities for international study are greatly improved. The Grade Point Average system makes it easier for students to transfer marks between countries. So they can spend time abroad and return with a clear and specific amount of credit for any study they completed while abroad. With modular programmes students also have the option of broadening
their studies to include say Psychology modules within their
Engineering Degree or to include say International Language modules within their Business Degree.'
'It makes the learning experience more effective for each individual student' he continued. But as Prof Doyle was clear to point out, students are not able to choose a completely random set of modules. Rather they select a limited number of free electives to add to their structured degree programme, allowing a broader learning experience.'
Also over the course of the two days and outside of the main hall students could avail of the opportunity to explore the entire Belfield campus - visit lecture theatres, classrooms, laboratories, sports facilities and on-campus student residences.
Now, with most of their questions answered, students who visited UCD Open Days may retreat to consider joining their 4,000 fellow students who registered as first years with UCD last September.

>> More News and Events
<< Back to Home