Chemistry and Biology meet at CSCB Symposium
Over 200 visitors including academics, postdoctoral scientists and postgraduate students from RCSI, UCD, TCD and other institutions attended the 4th Annual Centre for Synthesis and Chemical Biology (CSCB) symposium in the Astra Hall in UCD on December 2nd.
The event was opened by the President of UCD, Dr Hugh Brady, who in his opening remarks said that the symposium was the highlight in the CSCB calendar year. Dr Brady also acknowledged the work of the centre saying it has matched the targets set out in its objectives and mission statements.
The plenary lectures were given by Professor Tadhg Begley (Cornell University, USA), Professor JoAnne Stubbe (Massachusetts Institute of Technology, USA), Professor Linda Hsieh-Wilson (Californian Institute of Technology, USA),
Professor Volker Dötsch (Institut für Biophysikalische Chemie, Frankfurt-am-Main, Germany), Professor Amos B. Smith (University of Pennsylvania, USA) and Professor David MacMillan (California Institute of Technology, USA).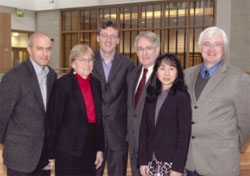 Professors Volker Dötsch, JoAnne Stubbe, David MacMillan,
Amos B. Smith, Linda Hsieh-Wilson and Tadhg Begley
The morning lectures were on a range of subjects including studies related to the essential vitamin thiamin and how organic chemistry can be integrated with neurobiology to explore how the brain communicates and stores information. Two of the afternoon lectures covered the fascinating topic of how organic chemists are striving to synthesise naturally occurring medicines in yields that are viable for commercial scalability.

In addition to the plenary lectures, over 80 postgraduates and postdoctoral scientists from all over Ireland exhibited their research in a poster competition. The standard of entry was very high and the judges Dr Marc Devocelle (RSCI), Dr Kevin O'Connor (UCD) and Dr David Grayson (TCD) had a difficult decision choosing the best three entries.
The winners of the poster competition were Dr Jerome Fakhry (UCD), Ms Enrica Pascarella (UCD) and Ms Ciara O'Connell (QUB).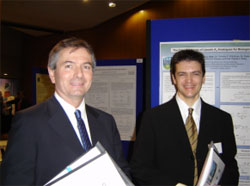 Two of the judges – Dr David Grayson and Dr Marc Devocelle
Centre for Synthesis and Chemical Biology
The CSCB is a collaboration in the chemical sciences between University College Dublin (UCD), Trinity College Dublin (TCD) and the Royal College of Surgeons of Ireland (RCSI). The centre was established in Dublin in December 2001 after being awarded €26 million by the Irish Government's Higher Education Authority Programme for Research in Third Level Institutions (PRTLI). Construction of the new UCD CSCB building is now complete and researchers have established working laboratories in the building.