Posted: 20 December 2006
NovaUCD-based BiancaMed secures €2.5 million investment
Medical technology start-up, BiancaMed is pleased to announce that it has secured €2.5 million in investment. The investment round was oversubscribed and was led by DFJ ePlanet Ventures with participation from existing corporate investor ResMed. BiancaMed, whose target markets are the fast growing mobile and home-health sectors, was founded in 2003 and is based in NovaUCD, the Innovation and Technology Transfer Centre at UCD.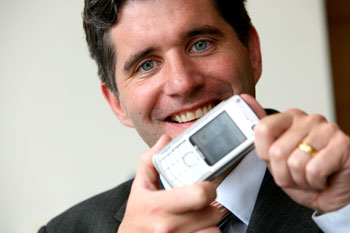 Dr Conor Hanley, co-founder and CEO of BiancaMed, a medical
technology start-up company based at NovaUCD. BiancaMed has
just secured €2.5 million in investment from DJF ePlanet Ventures
and existing corporate investor ResMed.
BiancaMed, whose vision is to provide easy-to-use mobile phone and home based wellness and health monitoring technologies and services for use in daily life, was co-founded by Dr Philip de Chazal, Dr Conor Hanley and Professor Conor Heneghan as a spin-off from UCD's School of Electrical, Electronic and Mechanical Engineering.
"BiancaMed is delighted to have secured this significant investment from such a prestigious global investor, with a proven track record in growing successful medical technology companies. BiancaMed is also delighted to welcome Dennis Atkinson and Donald Fitzmaurice to the Board," said Dr Conor Hanley, CEO, BiancaMed. "The money raised will be used to accelerate our technology development and our entry into rapidly growing markets that are expected to be very large."
Increasingly stressful lifestyles, a rise in chronic diseases and obesity and an aging population are directly contributing to skyrocketing health care costs. BiancaMed is providing mobile phone and home based solutions that empower individuals and patients to better manage their wellbeing and health. In short, BiancaMed aims to transform wellbeing and health by providing the ultimate convenience in personal health monitoring.
At the core of BiancaMed's product platform is a very sensitive motion sensor that detects heart rate and respiration - without having to touch a person - completely wirelessly. The sensor, combined with the company's sophisticated health analysis software, provides solutions to monitor sleep, diet and exercise - the three elements of wellbeing. The company's product line, initially including baby, home health and exercise monitors, will ultimately be converged with the convenience and ease of a mobile phone.
"We are very excited about BiancaMed and are looking forward to working closely with the founders and management to grow a successful company," said Donald Fitzmaurice of DFJ ePlanet Ventures. "All the ingredients for success are present: a major opportunity in personalised healthcare, a visionary and experienced team and a proven ability to innovate clinically at the outset."
"A major priority for UCD is the commercialisation of its research through a combination of licensing and the formation of spin-out companies," explained Dr Pat Frain, Director, NovaUCD. "BiancaMed is an excellent example of a start-up company which was established to commercialise UCD intellectual property created by the founders of BiancaMed."
"This investment demonstrates that university spin-outs, such as BiancaMed with strong intellectual property and cutting-edge technology continue to have the potential to attract significant investment to implement their business development plans."
About BiancaMed
BiancaMed, established in 2003 and based in NovaUCD, the Innovation and Technology Transfer Centre at University College Dublin, specialises in the development of software and sensors to monitor personal wellbeing in everyday life.
For more information visit www.biancamed.com
About DFJ ePlanet Ventures
DFJ ePlanet Ventures is a premier global venture capital firm, founded in 1999 by Asad Jamal in partnership with Draper Fisher Jurvetson, to capitalise on the growing trend towards globalisation. With over $650 million under management, DFJ ePlanet seeks to provide superior returns to its investors through strategic investments in early and late stage information technology, consumer Internet, medical devices and wireless companies throughout the globe. DFJ ePlanet operates offices in Redwood City, California, Singapore, Beijing, Hong Kong, London, Tokyo, and Tel Aviv. For further information visit www.dfjeplanet.com
About ResMed
ResMed is a leading manufacturer of medical equipment for the treatment and management of sleep-disordered breathing and other respiratory disorders. ResMed is dedicated to developing innovative products to improve the lives of those who suffer from these conditions and to increasing awareness among patients and healthcare professionals of the potentially serious health consequences of untreated sleep-disordered breathing. For more information visit www.resmed.com
About NovaUCD
NovaUCD is University College Dublin's €11 million Innovation and Technology Transfer Centre. NovaUCD is responsible for the commercialisation of intellectual property arising from UCD research and for the development of co-operation with industry and business. NovaUCD as a purpose-built centre also nurtures new technology and knowledge-intensive enterprises. NovaUCD has over 40 incubation units, including bio-incubation units, and provides innovators and entrepreneurs with the necessary support and knowledge to take their ideas from proof of principle to commercial success. Twenty-four knowledge-intensive companies are currently located in NovaUCD including BiancaMed. NovaUCD has been funded through a unique public-private partnership that includes AIB Bank, Arthur Cox, Deloitte, Enterprise Ireland, Ericsson, Goodbody Stockbrokers, UCD and Xilinx.