Posted: 03 February 2006
Taoiseach opens UCD Centre for Synthesis and Chemical Biology building. €26m is largest single investment in chemistry research by Irish Government
On Thursday, 2 February, the Taoiseach, Mr Bertie Ahern, TD officially opened the new UCD Centre for Synthesis and Chemical Biology (CSCB) building on the Belfield campus. It is a 2,300 m2 building comprising six state-of-the-art laboratories for synthetic chemistry and mass spectrometric and nuclear magnetic resonance (NMR) spectroscopic facilities.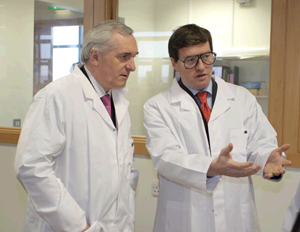 Taoiseach Bertie Ahern and Prof Pat Guiry, Director CSCB, tour the new CSCB building.
The CSCB, a UCD-led collaboration with TCD and the RCSI, was funded under a €26 million grant from the Higher Education Authority through the Programme for Research in Third Level Institutions (PRTLI) Cycle 3. This is the largest single investment in chemistry research ever made by the Irish Government and represents a significant platform for the creation of "4th level Ireland" which will produce the knowledge leaders and underpin a climate of innovation for Ireland's further economic growth.
Dr Hugh Brady, president of UCD, acknowledged the contribution of Atlantic Philanthropies who were the principal non-governmental supporter of this project.
"When the history of Irish higher education at the turn of the millennium is written, the name of Atlantic Philanthropies will hold an honourable place. It would be difficult to exaggerate how bleak the Irish research landscape looked when I returned from the USA in 1996. Half a decade later, it has been totally transformed, thanks in large part to the catalytic initiative shown by Atlantic Philanthropies in relation to the Programme for Research in Third Level Institutions. Atlantic's contribution to UCD is evidenced in the Conway and Geary Institutes, as well as in the CSCB, along with many other capital and academic developments across the campus."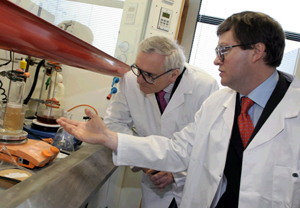 Prof Pat Guiry shows Taoiseach Bertie Ahern state-of-the-art Fumehood in new CSCB building.
60% of medicines have natural products as their origin. Mother Nature has created a multitude of biological compounds that have one purpose in their host plant but can have extraordinary effects on diseased human cells. So, for example, a natural source of aspirin is to be found in willow bark, penicillin on mouldy bread and anti-cancer drugs in a marine sponge.
The challenge for scientists is to isolate and identify the active compounds from nature and apply them correctly in patient treatments. Drug discovery requires input from a range of disciplines. Chemists and chemical biologists have managed to synthesise many naturally occurring medicines in the lab and are also striving to discover new molecules with enhanced biological activity and better ways to make them. This research leads to a better understanding of disease at a molecular level.
One of the reasons it is so important to the pharmaceutical industry to be able to chemically synthesise the natural effect is that Mother Nature cannot produce sufficient quantities to treat patients.
Our next generation of medicines may well originate from the CSCB if the research accomplishments over the last three years are anything to go by.
Since its establishment, the CSCB researchers have published over 300 scientific publications and raised over €17m in external grant funding. In addition, there have been 100 PhD graduates and over 50 postdoctoral fellows working in labs supervised by CSCB investigators. These scientists will play a pivotal role in the existing pharmaceutical and emerging biopharmaceutical industry in Ireland.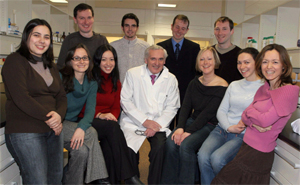 Taoiseach Bertie Ahern with Dr. Paul Murphy, CSCB Principal Investigator (back row, 2nd from right) and his research group
The pharmaceutical industry in Ireland employs more than 17,000 people in 83 facilities, making Ireland one of the world's largest exporters of pharmaceuticals and biopharmaceuticals. Dr Brady appealed to the pharmaceutical sector to become an active partner in the next wave of economic development for Ireland. "The pharmaceutical sector should take an even more active partnership role with us as we drive towards 4th level Ireland. Ireland's future economic success hinges on the training and placement of highly skilled, highly intelligent postgraduate and post-doctoral researchers.
With the capital investment in CSCB the Irish Government and the higher education sector has demonstrated their commitment to research. Our hope is that industry will become more practically involved in funding the postgraduate and post-doctoral researchers who are part of the global community seeking to discover new ways to treat or allay chronic diseases."
As examples of some of the research carried out by the CSCB, Dr Paul Murphy's group take their inspiration from nature, with a research focus on carbohydrate chemistry, in particular the design and synthesis of bioactive agents based on carbohydrates. Many of the compounds have the potential to form the basis of new drugs for the development of new therapeutics for cancer, HIV, Hepatitis B and C infection, multiple sclerosis and diabetes.
Professor Pat Guiry (CSCB Director) runs a research programme to develop new and efficient catalysts for synthetic chemistry with an emphasis on stereoselectivity and efficiency. Professor Guiry's group are also synthesising an important class of compounds, called lipoxins, which exhibit anti-inflammatory properties and have potential therapeutic and commercial value.
Many of the principal investigators are carrying out research in the area of anti-cancer drugs. To discover a new medicine, researchers embark on a drug discovery programme which can entail synthesising thousands of molecules, which are then screened for their biological activity. Dr Donal O'Shea's group use microwave technology to speed up reactions and make this drug discovery process more efficient. Dr Matthias Tacke is working on a group of anti-cancer drugs from the Titanocene family, with the aim of discovering a potential new chemotherapy product for renal cell cancer. This research project is at the pre-clinical stage.
Already some of the researchers based in the CSCB have taken their research to the commercial level. This entrepreneurial activity includes Dr Raphael Darcy, Dr Declan Gilheany and Professor Paul Engel who have set up three UCD campus companies, Cytrea, Celtic Catalysts and Enzolve, respectively.

(i) One example of chemists' partnership with Mother Nature is the case of the Pacific Yew. Taxus brevifolia. In the 1960s, an extracted compound, known as paclitaxel, from the bark of the tree was discovered to exhibit significant anti-tumour activity. Unfortunately, the Pacific yew is one of the slowest growing trees in the world – as well as being a protected species. It would take six 100-year-old trees to provide enough paclitaxel to treat just one patient. Since removing the bark kills the tree, the cost of producing sufficient quantities of the drug remained a major limiting factor for years.
Over time, synthetic organic chemists managed to recreate the paclitaxel compound and by the early 1990s, the drug Taxol was finally made available in sufficient quantities to provide an effective, non-intrusive alternative to the more radical techniques of radiation therapy and surgery. Today, Taxol is primarily used to treat solid tumours, which are notoriously hard to combat and the Pacific yew is left in peace to grow at its own pace.
The world's supply of Taxol is manufactured by Bristol-Myers Squibb in their Swords Co. Dublin facility.