Posted: 13 February 2006
UCD Sinfonia at the National Concert Hall
The UCD Sinfonia will give its annual National Concert Hall performance on Monday 27 February at 8 pm. The return to the NCH sees the UCD Sinfonia joined by renowned guitarist Redmond O'Toole for Rodrigo's Concierto de Aranjuez, plus Milhaud's jazz ballet La Creation du Monde, Copland's Rodeo and Mars and Jupiter from the Planets Suite by Gustav Holst.
Tickets are now available from the National Concert Hall on (01) 417 0000 or www.nch.ie priced €12 (concessions €8).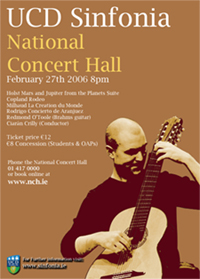 Poster for UCD Sinfonia at the National Concert Hall
The UCD Sinfonia is UCD's resident symphony orchestra and was established in October 2002. The Sinfonia provides a platform for the many talented players who exist within the staff and student body of UCD. The concert in the NCH will see more than 50 UCD students performing conducted by Ciarán Crilly, a UCD PhD student.
Redmond O'Toole is much in demand as a recitalist here in Ireland and has more recently given a number of highly successful performances in England, Germany and Italy. Through his unorthodox playing style and committed musicianship, Redmond O'Toole has emerged as one of the most innovative and exciting young guitarists in Europe. O'Toole was the first guitarist in the world to adapt to Paul Galbraith's new groundbreaking technique and instrument; he plays an 8-string 'Brahms guitar' in the cello position connected to a special resonating box. The additional range of the guitar allows an expansion of the repertoire as well as incorporating original music for classical guitar.
The UCD Sinfonia is generously supported by Albany Homes, Bank of Ireland, DTZ Sherry FitzGerald, Pierse Contracting, Irish life Investment Managers and the UCD Conference and Commercial Office.