Posted: 16 February 2006
UCD's Annual March Open Days
Wednesday March 15th: 9am-3pm
Thursday March 16th: 9am-3pm
UCD's Annual March Open Days will take place on Wednesday 15th and Thursday 16th of March this year. UCD Open Days provide visitors with a unique opportunity to explore the expansive Belfield campus and visit lecture theatres, laboratories, the library, student residences and sports facilities. Each college and every student support service will have display exhibitions, practical demonstrations, talks and special programmes for visiting students, guidance counsellors and teachers. At UCD Open Days you will also discover more about our exciting range of degrees and how our new modular curriculum, UCD Horizons, offers greater choice and flexibility across 75 CAO programmes.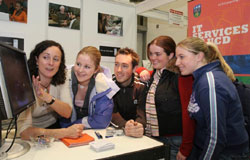 Pictured at UCD Open Days: (Left) Niamh Milne, Information Officer, UCD Computing Services, and (center) Andrew Kearney, UCD Computing Services, in discussion with visiting leaving certificate students
We have recently expanded our range of degree programmes to include the following New Degree Programmes in 2006:
Commerce with Chinese Studies
Physics with Astronomy and Space Science
Pharmacology
Neuroscience
Biochemistry/Chemical Biology
Biomedical, Health and Life Sciences
Integrated BA/MA in Liberal Arts
Law with History
Law with Politics
Law with Philosophy
History, Politics and International Relations
Economics and Politics
Geography, Planning and Environmental Policy
Medicine (Graduate Applicants)
Bioprocess Engineering
Engineering Science
Midwifery

Pictured at UCD Open Days: Dr Brian Glennon (Right), Senior Lecturer, Interim Vice-Principal for Teaching & Learning, College of Engineering, Mathematical & Physical Sciences meets with visiting leaving certificate students. The Formula style racing car featured in the photograph is designed and built by UCD Engineering Students as part of a yearly international competition in which 40 competitors from Europe and America conceive, design, fabricate and compete with small Formula style racing cars
Last September, over 4,000 new first year students successfully enrolled and began their studies within our UCD Horizons curriculum. From a total of twelve first year modules, students, if they wish, have the freedom to choose up to two modules from outside their core study area. Many students selected modules that although outside their core subject area were in fact complementary to their learning within their core subject. For example Business and Law students choose Language modules, Health Sciences students (including Medicine) choose Psychology modules, Landscape Architecture students choose Architecture modules, and Architecture students choose modules in Archaeology and Greek and Roman Civilisation.

Pictured at UCD Open Days: With the help of Dr. Gareth Dyke, UCD School of Biology and Environmental Science (left), Rose of Tralee, Aoibhinn Ni Shuilleabhain (center), who completed her first-class UCD honours BSc degree in Theoretical Physics in Summer 2005, explains the excitement of studying science at UCD to visiting leaving certificate students
To find out more about the modules that suit you and your career plan visit UCD Open Days on March 15th and 16th 2006
If you or a member of your group attending UCD Open Days has a disability and may require some specialist assistance, please contact Martha Brandes at 01 716 7565 or email dss@ucd.ie
in advance to ensure all your requirements are catered for.

Further details will soon be available at http://www.ucd.ie/horizons/opendays.htm