Posted: 23 February 2006
UCD Choral Scholars host vocal ensemble from Yale University
Yale University's oldest women's a cappella singing group, The New Blue will be performing in the Astra Hall, UCD on March 10th at 8:00 PM.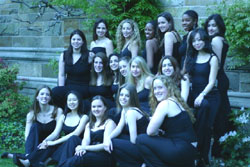 The New Blue
As part of a spring tour to the UK and Ireland, this special performance hosted by UCD Choral Scholars launches an initiative by Artistic Director, Desmond Earley to develop links between UCD School of Music performing groups and university performing ensembles from around the world.

Founded in 1969, The New Blue is the oldest women's organization in Yale. Composed of sixteen intelligent, personable, and poised undergraduate women, The New Blue is reputed to be one of the finest collegiate singing groups in the United States. Their latest CD, Since 1969, offers a blend of songs ranging from traditional favourites of the past to award-winning renditions of current artists. The group's repertoire includes songs by Aretha Franklin, Patsy Cline, James Taylor, Stevie Nicks, Simon and Garfunkel, and Mariah Carey.
The New Blue has performed across North America and the Caribbean - from the beaches of Jamaica to Vancouver, and from New York to California. On recent tours the group has performed at The Empire State Building and as the opening act for Bill Cosby.

Tickets cost €10 for adults and €5 for students. A portion of the concert proceeds will go towards UCD Choral Scholarships. Tickets are available at the door or can be reserved by contacting Desmond Earley at choralscholars@ucd.ie

Further information about The New Blue visit www.yale.edu/newblue.