Seán Óg launches UCD "Please Talk" campaign to fight anxiety and suicide
Posted: 22 February 2007
Young people between 18 and 25 are statistically vulnerable to depression and suicide. With over 15,000 undergraduates on campus, UCD has developed a new campaign, called "Please Talk," to encourage students who are struggling with anxiety to make contact with support services and to begin to perceive seeking help as a sign of strength rather than a sign of weakness.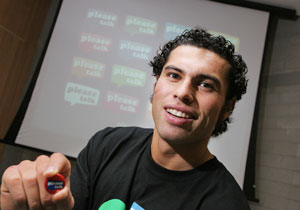 Seán Óg Ó hAlpín at University College Dublin yesterday
for the launch of the "Please Talk" campaign to fight
anxiety and suicide
GAA star, Seán Óg Ó hAlpín helped to launch the campaign in the UCD Student Centre on Wednesday, 21 February 2007. Speaking to the several hundred students who attended the event, he told of his own experiences with suicide. He explained that on the eve of the 1999 Munster final, the chairman of his local club contacted him to tell him of the death by suicide of his former teammate Conrad Lynch.
"As much as I regretted not doing PE in college or those All-Ireland finals I had lost, there is something you could do about them – unfortunately with the loss of Conrad…I felt so helpless," he said.
"Through the 'Please Talk' campaign we hope that young people will be made aware of all of the support services that are available to them," said Fr Tony Coote, who initiated the campaign. "Typically asking for help has been seen as a sign of weakness. This campaign is saying that asking for help is a sign of strength."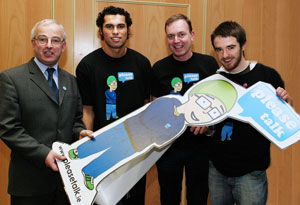 Pictured with the Please Talk mascot at the launch of the campaign: Dr Martin Butler, Vice-President for Students, UCD; Seán Óg Ó hAlpín; Fr Tony Coote, Student Adviser, UCD; Barry Colfer, Student Welfare Officer UCDSU
To promote the campaign, students distributed badges (10,000), t-shirts and contact cards to alert students to where they can go for help.
UCD student services include: student advisors, chaplaincy, health centre, counselling services, disability support services and the students union.
For more information visit
www.pleasetalk.ie