Posted: 13 January 2006
Chomsky at UCD
Noam Chomsky, world renowned linguist and public intellectual, paid a return visit to UCD to deliver a series of lectures in January 2006.
The lecture dates and titles included:
Thur 19 Jan @ 7pm, O'Reilly Hall, UCD, Belfield D4
"Stark, Dreadful, Inescapable: The Question of Survival"
Student lecture hosted by UCD Literary and Historical Society and UCD Philosophy Society.
Fri 20 Jan @ 4.30pm, O'Reilly Hall, UCD, Belfield, D4
"Biolinguistic Explorations: Design, Development, Evolution"
Public Philosophy and Linguistics lecture hosted by UCD School of Philosophy, Postgraduate Programme in Cognitive Science, and Linguistics.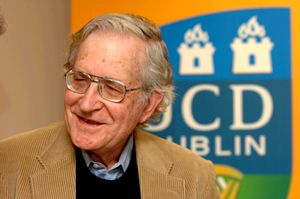 Professor Noam Chomsky at UCD
About Chomsky

"Judged in terms of the power, range, novelty and influence of his thought, Noam Chomsky is arguably the most important intellectual alive today," writes Paul Robinson in the New York Times Book Review.
Chomsky, a professor of linguistics at the Massachusetts Institute of Technology, is perhaps better known publicly for his active left-wing criticism of American foreign policy. In 1965 he organized a citizen's committee to publicise tax refusal in protest to the war in Vietnam and some four years later he published his first book on politics American Power and the New Mandarins. By the 1980's he had become both the most distinguished figure of American linguistics and one of the most influential left-wing critics of American foreign policy.
His political writings include American Power and the New Mandarins (1969), Peace in the Middle East? (1974), Some Concepts and Consequences of the Theory of Government and Binding (1982), Manufacturing Consent (with E. S. Herman, 1988), Profit over People (1998), and Rogue States (2000). His controversial bestseller 9-11 (2002) is an analysis of the World Trade Center attack which, while denouncing the atrocity of the event, traces its origins to the actions and power of the United States, which Chomsky refers to as "a leading terrorist state."
Chomsky describes himself as a libertarian socialist, a sympathizer of anarcho-syndicalism, and he is often considered to be a key intellectual figure within the left wing of American politics.
In the field of linguistics, Chomsky, who has taught at the Massachusetts Institute of Technology since 1955, is credited with the creation of the theory of generative grammar, often considered the most significant contribution to the field of theoretical linguistics of the 20th century. He first set out his abstract analysis of language in his doctoral dissertation (1955) and Syntactic Structures (1957). He also helped spark the cognitive revolution in psychology through his review of B. F. Skinner's Verbal Behavior, which challenged the behaviorist approach to the study of mind and language dominant in the 1950s. His naturalistic approach to the study of language has also affected the philosophy of language and mind. He is also credited with the establishment of the 'Chomsky hierarchy,' a classification of formal languages in terms of their generative power.
Daniel Yergin, a New York Times Magazine contributor maintains that "where others heard only a Babel of fragments, he found a linguistic order. His work has been compared to the unraveling of the genetic code of the DNA molecule." He further declares that Chomsky's discoveries in linguistics have had an impact "on everything from the way children are taught foreign languages to what it means when we say that we are human."
>> More information on Noam Chomsky