Posted: 20 January 2006
Students of Equality for Older People Awarded UCD Certificates
Twenty students were presented with Certificates in Equality Studies (Issues for Older People) in December 2005 by Dr. Bairbre Redmond, Vice-Principal for Teaching and Learning in the UCD College of Human Sciences.
This unique course was developed by the UCD Equality Studies Centre with support from the HEA Targeted Funding Initiative, and run in association with Age and Opportunity, the national agency with responsibility for promoting positive attitudes to ageing. The Equality Studies Centre is located within the UCD School of Social Justice.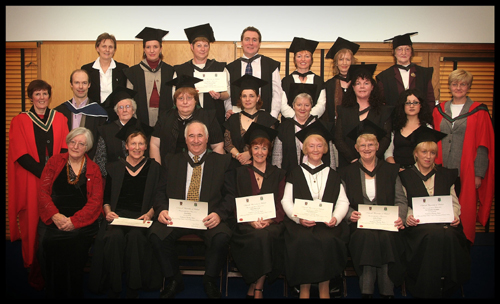 Students conferred: Frances Greene, Eileen Hanley, Katherine Harlin, Marian Jameson, Margaret Kennedy, Anne Malone, Margaret McCartin, Anne McNamara, Kevin Molloy, Gretta O'Connor, Marie O'Flynn, Sheila O'Flynn, Anne O'Neill, Andrea Pepper, Helena Poole-Stapleton, Catherine Rose, Paul White.
UCD Staff: Dr Bairbre Redmond, Vice Principal, UCD College of Human Sciences, Professor Kathleen Lynch, UCD Equality Studies Centre, Dr. Phyllis Murphy (Co-ordinator of UCD ESC Outreach), John Baker (ESC, Coordinator of UCD ESC), Marie Moran (UCD ESC).
The course provides a unique focus on equality issues for older people and also serves as a model for supporting access to and participation in third level education by older people from diverse backgrounds. The barriers faced by older people in relation education include lack of previous educational opportunities, limited information, lack of confidence, limited financial means and in many cases distance from educational centres.
Twenty-four students from thirteen counties were selected and registered as UCD students. They included both older people and those working with older people (including VEC community education facilitators and health board active age facilitators).
The course commenced in February 2005 and was delivered in five blocks, most of which were residential. As in all Equality Studies Centre programmes, assessment and teaching methodologies were in line with best practice for adult education. Arising from the network developed throughout the course by older people and representatives of key agencies (including Health Boards, Cluid Housing, the VEC community education sector, the Older Women's Network, the Irish & EU Senior Citizen's Parliament, Community Connections, Sunbeam House Services and Care Services), students engaged in work placements in approximately twenty national and local organisations, focusing on problems of equality-proofing for older people. This network will now be used to promote continuing access to higher education for older people.
A third group of students are due to commence the course in February 2006.
Photo: Tommy Clancy.