Posted: 31 January 2006
Feb 7, 2006 - Classical Guitarist David Creevy in a special tribute concert: Tribute to Andres Segovia, 7:00pm, Astra Hall, UCD
Classical Guitarist David Creevy plays a special tribute concert, Tribute to Andres Segovia, on 7 Feb 2006 in UCD. David is the only Irish guitarist of his generation with a direct link to Christopher Parkening the heir to Andres Segovia who is considered to be the godfather of classical guitar, responsible for bringing the instrument to the concert halls of the world.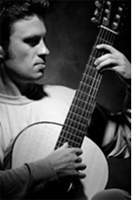 Parkening is the truest exponent of the Segovia tradition. Segovia is David's greatest inspiration and this concert is his own personal tribute to the Maestro. It will include some of the best loved works for the instrument: Stanley Myers' Cavatina (theme from The Deer Hunter); Recuerdos de la Alhambra by Tarrega; and Estudio sin Luz by Segovia.
Tickets cost €10 and are available at the door. Doors open at 6.30 pm.
Reviews:
"…Creevy is a sensitive musician with a knowing sophisticated side…a strong technique with an ability to define layers in a multi-line texture…"
The Irish Times
"David Creevy is a very talented young classical guitarist. An instrument speaks from the heart of a player and it is this young man's heart that speaks when he plays" – Christopher Parkening, USA
"(Creevy)…gave an inspiring solo performance filled with Irish sentiment, wit and images. The hall was filled with an enthusiastic audience that spilled into the aisles as Creevy created a magical atmosphere with his music…He received a fervent standing ovation and encore…" – Pepperdine News, USA
"David Creevy is a very accomplished performer, with a very promising future" – John Feeley
9 Feb 2006 - Masterclass with Classical Guitarist David Creevy
After a very impressive presentation at the National Concert Hall and guitar festival – Total Guitar Sunday© -, David will share his talents and insights into the instrument's expressive powers and reveal his own preferences for technique. "David had this audience of teens and young adults enthralled by his obvious skill and passion for the instrument – you could hear a pin drop!" said festival director Kerry Anderson. The presentation will include footage of Andres Segovia whose artistry is the theme of David's evening recital scheduled for February 7th at the Astra Hall; he will highlight four features of Segovia's artistry and technique to coach classical guitarists. Students wishing to participate should contact 0404 42244
"Creevy is an instinctive teacher. He passionately calls on his experience with his mentor, Parkening, and articulates in great detail the elements of Segovia's mastery, to form well-rounded musicianship, technique and affinity with the instrument". Mike Nielsen

The Masterclass will take place in the UCD School of Music at 3:00pm on Thursday February 9th and promises to be an inspiration for both players and enthusiasts.
About David Creevy:
David is a graduate of the DIT Conservatory of Music and Drama where he studied with John Feely, after a string of successful competitions he was selected as one of six guitarists from around the world to study with the heir to the legacy of Segovia, Christopher Parkening in Southern California. Parkening proclaims that "David Creevy is a very talented young classical guitarist, an instrument speaks from the heart of the player and it is this young man's heart that speaks when he plays." Creevy received standing ovations in US concerts notably his St. Patrick's Day O'Carolan recital and was dubbed the Celtic Ambassador of Classical Guitar.