Posted: 31 January 2006
"Such people come into the world only once in a 100 years" – Mozart in the 21st Century
This year, in 2006 the world celebrates the 250th birthday of Wolfgang Amadeus Mozart. The UCD School of Music begins its celebrations of this anniversary (which take place under the heading "Mozart@UCD") with an international conference on 3 February in Newman House.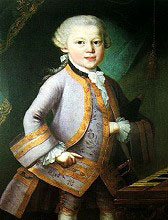 Wolfgang Amadeus Mozart
Some of the world's leading Mozart experts will join us, with Cliff Eisen (King's College London) presenting the keynote address entitled Mozart and the Tyranny of Biography. Sessions on Mozart's work as a teacher and a composer, his operas and his symphonies together with a round-table discussion complete the programme. Please find more details about the speakers and their subjects here.
Further events taking place on the UCD campus to celebrate the anniversary include:
DVD screenings of five of Mozart's Master Operas
DVD screenings of the movie Amadeus
A series of lectures on Mozart (addressing the general public) in Newman House in April
RTE's Universities' Concert featuring the Don Giovanni Overture and the Jupiter Symphony on 21 March (in the National Concert Hall)
A concert by the College Choir in April and a recital by the British pianist Tim Horton (also in April).