Posted: 06 July 2006
Chinese students graduate from UCD/Fudan University international software engineering degree programme
The second cohort of students on the UCD/Fudan University international software engineering degree programme received their degrees at a graduation ceremony in Fudan, Shanghai on 30 June 2006.
Students in the joint international programme are registered students of UCD and they graduate with two BSc degrees, one from UCD and one from Fudan University.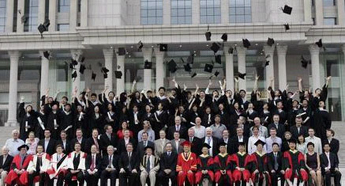 UCD/Fudan University international BSc
in software engineering graduates, 2006
UCD has been delivering courses on the software engineering degree programme at Fudan University, Shanghai, since the inauguration of the university's software school in 2002/2003. The school was founded to serve the Chinese software industry. It has two undergraduate streams: UCD and non-UCD. 300 students attend the software school and more than 50% study UCD taught courses.
The syllabus at the software school is largely based on UCD's Computer Science syllabus. Students on the course learn computer sciences in two languages. UCD delivers courses in all three years of the software degree and in the fourth year students complete an industry internship.
The majority of Fudan students travel to the US for postgraduate opportunities. But a UCD/Fudan research internship programme was introduced in 2004 to showcase postgraduate opportunities at UCD. This internship involves an 8-week summer apprenticeship in Belfield. Students compete for the internship by open competition and the top three students from year three are selected.
Ernst & Young Entrepreneur of the Year 2006 finalists attended the graduation ceremony during their trade mission to China. Micheál Martin, Minister for Enterprise, Trade and Employment also attended the ceremony.
UCD School of Computer Science and Informatics