Posted: 26 July 2006
Over 90% of incubation space at NovaUCD occupied, one year ahead of schedule
Over 90% of the incubation space at NovaUCD, the Innovation and Technology Transfer Centre at University College Dublin, is occupied one year ahead of schedule, and 150 people are currently employed in its community of entrepreneurs, according to the centre's latest report.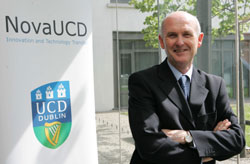 Dr. Pat Frain, Director, NovaUCD
NovaUCD is home to 23 knowledge-intensive companies including: BiancaMed, Celtic Catalysts, ChangingWorlds' Advanced Research and Development Centre, and Duolog Technologies.
'It is two years and nine months since NovaUCD officially opened and this represents a critical milestone as we have now reached the end of our first cycle' said Dr Pat Frain, Director, NovaUCD. 'Our first client company will 'graduate' in the coming weeks to make way for new enterprises, thus ensuring that NovaUCD's community of entrepreneurs is continuously refreshed' he continued. 'This is an important element of NovaUCD's development strategy and it has been made easier to implement by the growing demand for space at NovaUCD.'
NovaUCD helps UCD researchers to take innovative ideas from proof-of-principle to full commercial success. The centre provides entrepreneurs and knowledge-based start-up companies with incubation facilities and a comprehensive business support programme. It also acts as the main point of contact for companies seeking partners for collaborative research, advice on licensing and other commercial opportunities, and is responsible for the development of co-operation with industry and business.
The centre is responsible for the implementation of UCD policies relating to the commercialisation of intellectual property (IP) arising from UCD's research programmes and for the provision of advice on the identification, protection and exploitation of this IP.
At the official launch of the NovaUCD report, Dr Frain welcomed the recent Government Strategy for Science, Technology and Innovation. 'It is recognised that the universities are an important national resource which can make a direct contribution to the growth and competitiveness of a knowledge-based economy' he said. 'The universities can contribute not only through the production of highly qualified graduates and scholarly papers, but also by the attraction of overseas R&D investment and the generation of new high-tech ventures' he continued. 'The success of this Strategy will depend on the professional management of technology transfer from the universities.'
NovaUCD is University College Dublin's €11 million Innovation and Technology Transfer Centre. NovaUCD has been funded through a unique public-private partnership that includes AIB Bank, Arthur Cox, Deloitte, Enterprise Ireland, Ericsson, Goodbody Stockbrokers, UCD and Xilinx.