Posted: 02 June 2006
UCD confers honorary Doctor of Laws on Rwandan humanitarian, Paul Rusesabagina
UCD conferred an honorary Doctor of Laws on Paul Rusesabagina for his humanitarian actions during the Rwandan genocide of 1994. During his visit to the university on 2 June 2006, Rusesabagina also addressed a group of UCD academics and students. He told of his experiences during the horrific genocide, the terror and the helplessness of the people he sheltered, and the ways in which governments, NGOs and ordinary people need to work to prevent this type of mass genocide.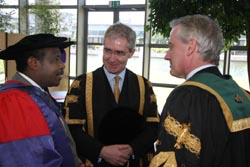 Pictured (left to right): Paul Rusesabagina; Dr Hugh Brady, President, UCD; and Professor John Hughes, Vice-Chancellor, NUI
In April 1994, as hotel manager of the Hotel des Mille Collines, Rwanda, Paul Rusesabagina sheltered over 1,268 Tutsis and moderate Hutus from being slaughtered by the Interahamwe militia when a wave of mass murder broke out in Rwanda. His great courage saved them from the 100-day genocide in which over 1 million people were brutally murdered.
"There are stories to be told that must not be forgotten. We can never give up on the lessons learned from Rwanda."
Paul Rusesabagina
Rusesabagina's humanitarian actions during the genocide were dramatised in the Academy Award-nominated film, Hotel Rwanda, starring Don Cheadle, Sophie Okonedo, Joaquin Phoenix, and Nick Nolte.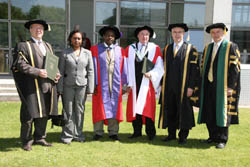 Pictured (left to right): Dr Padraic Conway, Vice-President for University Relations, UCD; Tatiana Rusesabagina; Paul Rusesabagina; Dr Maurice Manning, President, Irish Human Rights Commission; Dr Hugh Brady, President, UCD; and John Hughes, Vice-Chancellor, NUI
In 2000, Paul Rusesabagina received the Immortal Chaplains Prize for Humanity. He received the National Civil Rights Museum Freedom Award in 2005. His autobiography, An Ordinary Man, was published by Bloomsbury, UK, in 2006.
In 2005, Rusesabagina founded the the Hotel Rwanda Rusesabagina Foundation (HRRF) to provide financial assistance to children and women affected by the genocides in Rwanda and other African nations. What started as a personal mission of education on the lessons of Rwanda has become an international movement to put an end to all instances of genocide.
The HRRF provides support, care, and assistance to children orphaned by, and women abused during, the genocide in Rwanda. HRRF provides funding to reputable organisations to meet specific educational, vocational, mental health, medical and other social needs of identified orphans and women refugees.
In conjunction with supporting the victims of genocide in the Republic of Rwanda, HRRF also strives to provide assistance to other African nations in conflict. Its mission is to eliminate the conditions and climate that lead to instances of hatred and genocide.

Paul Rusesabagina
Rusesabagina was born in 1954, at Murama-Gitarama in the central-south of Rwanda. His parents were farmers. In 1962, he entered the Seventh Day Adventist College of Gitwe, a Missionary School, and was there for seven years of primary school and six years of secondary school.
From 1975 to 1978, he attended the Faculty of Theology in Cameroon and, in January 1979, was employed by Sabena as a front office manager in their newly opened Hotel Akagera in the Akagera National Park.
Through The Suisse Tourist Consult, Rusesabagina's application was accepted for entrance into the Kenya Utalii College in Nairobi in the Hotel Management Course, which he started in early 1980 and finished in September 1984 in Switzerland.
Back from Switzerland, Rusesabagina joined Sabena Hotels again and was employed as assistant general manager in the Mille Collines Hotel from October 1984 until November 1992, at which time he was promoted to general manager of the Diplomate Hotel (also in Kigali).