Posted: 06 June 2006
Nobel laureate in economics receives UCD Ulysses Medal and takes up appointment as UCD Professor of Science and Society
Professor James Heckman, University of Chicago, winner of a Nobel prize for economics (2000) has been described as a genial American with a razor-sharp mind. He is in Dublin this week to receive the Ulysses Medal from UCD for his contribution to research in economics and human behaviour. Heckman will also take up his appointment as UCD Professor of Science and Society, a joint initiative between the UCD Geary Institute and UCD Conway Institute.
On the 7 June 2006, the award of the medal will be followed by a lecture entitled 'The Economics of Child Development.' The lecture is part of week long visit during which he will also launch a collaborative research initiative into intervention design between the UCD Geary Institute and the Harris School of Public Policy at the University of Chicago, funded in part by Atlantic Foundation and the Irish Government through the PRTLI.
Heckman has taken a very strong interest in the economic benefits of investment in early child wellbeing. His work shows that the early childhood environment has a direct influence on the subsequent economic success of that child into adulthood. And, interestingly from a Government point of view, he argues that early intervention lowers the cost of later investment. His arguments for very early intervention for children from socially deprived backgrounds have not always been welcomed by those who advocate initiatives aimed at teenagers and adults.
'Whereas the traditional argument for providing enriched environments for disadvantaged young children is based on considerations of fairness, experimental interventions targeted toward disadvantaged children have much higher economic returns than later interventions, such as reduced pupil-teacher ratios, public job training, and convict rehabilitation programs' argues Heckman.

In general, Heckman is complimentary towards the Irish Government. 'I firmly believe that with the investment now being made in early child development, and with the strong Government support for children, Ireland can be a leader in both the science of the 'what works' for improving the lives of young children and also in delivering new and innovative policy.'
In his current research Heckman draws on neuroscience to demonstrate that factors including earnings, employment, college attendance, teenage pregnancy and participation in crime, strongly depend on cognitive and non-cognitive abilities. In other words, they depend on the person's formal skills and their personality traits. Influencing these personality traits (such as socialisation) has as much an impact as formal education on these later life outcomes.
According to Heckman, 'skills beget skills' so, the earlier a child receives a foundation for learning (whether social or intellectual skills), the easier it is for that child to learn and that in turn leads to self-reinforcing to learn more.
Put in terms of return on investment in human capital, Heckman shows that the earlier the intervention the higher the return. One study shows a ten-fold return on every $ invested in 0-3 year olds. 'Although investments in older individuals realise less return overall, such investments are still clearly beneficial. Indeed, the advantages gained from effective early interventions are sustained best when they are followed by continued high quality learning experiences. So, due to dynamic complementarity, early investments must be followed by later investments if maximum value is to be realised.'
UCD President, Dr Hugh Brady noted that it was particularly fitting that James Heckman accepted the position of UCD Professor of Science and Society. 'His work is at the frontier of economic science, but more importantly his work blends the influences – neurological, economic and psychological – on later life outcomes.' Dr Brady added 'This work provides compelling, rigorous and quantifiable – evidence for policy development. This appointment is an exciting development not only within UCD but within the country as a whole. It is an opportunity to coalesce the research taking place in the Geary Institute and the Conway Institute and to place scientific research in the context of today's society.'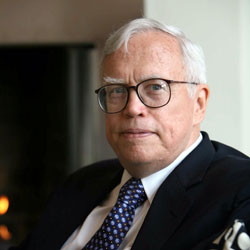 Professor James Heckman
Professor James Heckman
James J. Heckman is the Henry Schultz Distinguished Service Professor of Economics at The University of Chicago. His recent research deals with such issues as evaluation of social programs, econometric models of discrete choice and longitudinal data, the economics of the labour market, and alternative models of the distribution of income. Professor Heckman has received numerous awards for his work, including the John Bates Clark Award of the American Economic Association in 1983, the 2000 Nobel Memorial Prize in Economic Sciences (with Daniel McFadden) and the 2005 Jacob Mincer Award for Lifetime Achievement in Labor Economics.
UCD Ulysses Medal
UCD awarded the inaugural Ulysses Medal to Dr Phillip Sharp (MIT) on March 10, 2005 for his outstanding contribution to biomolecular discovery and to advances in medical treatment of diseases such as multiple sclerosis, hepatitis and cancer. Dr Sharp was awarded the Nobel Prize for his discovery that an individual gene does not have to be a single, continuous stretch of DNA, but instead can be made up of several DNA segments. This discovery had major implications for genetic discovery and importantly for research into heredity diseases.
Professor Klaus Schwab, founder and executive chairman of the World Economic Forum, was awarded the UCD Ulysses Medal on 13 May 2006 in recognition of his work for entrepreneurship in the global public interest over the past 35 years. Prof Schwab founded the World Economic Forum in 1971 as a non-profit foundation, and under his leadership it promotes global partnerships as a means of tackling issues such as third world debt, international trade, the global TB epidemic and the Middle East peace process.
Professor James Heckman is the third recipient of the UCD Ulysses Medal.