Posted: 09 June 2006
UCD bestows Ulysses Medal on author Edna O'Brien
The first book Edna O'Brien ever bought was Introducing James Joyce by T.S. Eliot. She once said that Joyce's A Portrait of the Artist as a Young Man made her realise that she wanted to spend her own life writing.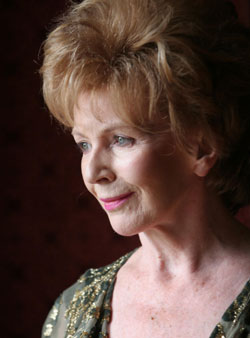 Author, Edna O'Brien in Newman House
So, it was indeed fitting that when UCD bestowed the Ulysses Medal on Edna O'Brien on 15 June 2006, the ceremony took place in the Physics Theatre in Newman House, where Joyce himself attended lectures and took part in the L&H Society debates and which inspired scenes in A Portrait.
"For more than four decades, Edna O'Brien has crafted a prose of surpassing beauty and exactitude. Her first novel, The Country Girls, created a sensation in 1960 and has remained ever since, one of the best-selling and most beloved of the Irish classics. It was banned by the Censorship Board and a copy burned by the curate in her local church in Co Clare. The Country Girls trilogy is now regarded as one of the glories of modern Irish writing. These books have a freshness and openness of approach to the problems faced by young women in a still censorious, male-dominated world, but they also drew on the national gift for storytelling in a vivid conversational style. They won for their author a reputation as a scandalous woman, but the unerring accuracy of her eye and the deft rightness of her phrase convinced readers that here were believable, flesh-and-blood women, neither paragons nor caricatures.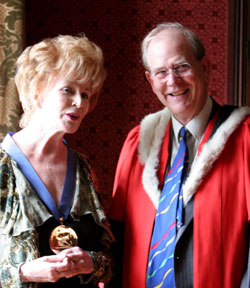 Pictured at UCD Ulysses Medal Awards Ceremony
in Newman House: Edna O'Brien and Professor Andrew Carpenter,
Head of UCD School of English and Drama
Her fiction, over the past two decades, has dealt with pressing contemporary themes, issues of separation and custody in Time and Tide, the IRA in The House of Splendid Isolation, sexuality and the consequences of repression in Down by the River, and the killing of Imelda Rainy in In the Forest." Declan Kiberd, Professor of English remarked in his citation on Edna O'Brien.
Edna O'Brien has written plays, children's books, essays, screenplays, and non-fiction about Ireland. Mother Ireland, O'Brien's tribute to her homeland, includes seven autobiographical essays, in which O'Brien weaves her own personal history with local customs and ancient lore of Ireland. "Countries are either mothers or fathers, and engender the emotional bristle secretly reserved for either sire. Ireland has always been a woman, a womb, a cave, a cow, a Rosaleen, a sow, a bride, a harlot, and, of course, the gaunt Hag of Beare." (from Mother Ireland, 1976)
She has received several literary awards, including the Kingsley Amis Award for fiction in 1962, the Yorkshire Post Novel Award in 1971, and the Los Angeles Times Book Prize in 1990 for Lantern Slides, a collection of short stories, set primarily in Ireland.
Despite her international fame as a fiction writer, Edna O'Brien returned to her great inspiration – James Joyce. Her non-fiction works include James and Nora, a study of James Joyce's marriage. She penned a biography about James Joyce in 1999. In her short sketches she describes him as "a man of profligate tastes and blatant inconsistencies", "a bullockbefriending bard", who "went from childlike tenderness to a scathing indifference, from craven piety to doubt and rebellion."
Speaking about Enda O'Brien, Professor Declan Kiberd, UCD School of English and Drama, drew a comparison with Joyce. "Like Joyce she has lived in exile but never forgotten a single thing. He is the figure who inspired Caithleen Brady in The Country Girls, and he is the figure to whom Edna O'Brien constantly returns, most notably in her full-length critical study of 1999, which offered stunning new insights into his relationship with his mother and wife, but also in the female characters in his works."
Edna O'Brien literary papers added to UCD Special Collections
The university accepted twenty large boxes of manuscripts including drafts, revisions and corrected proofs of Edna O'Brien's books and novels, of her critical work (including her important study of Joyce – 1999), her radio plays and short stories. The material will be added to the Special Collections in the UCD James Joyce Library.
They will join the university's significant holdings of the literary papers of Frank McGuinness (UCD writer in residence), Mary Lavin, Patrick Kavanagh, Sean Ó Riordáin and Maeve Binchy. The university is one of the premier research libraries for Irish literature material in the world.

Edna O'Brien appointed adjunct professor of creative writing at UCD
UCD also announced the appointment of Edna O'Brien as Adjunct Professor of Creative Writing. The university launched an MA in Creative Writing, beginning in September 2006, and novelist James Ryan and poet Harry Clifton will be working with Professor Andrew Carpenter, UCD School of English and Drama to guide the masters students.
UCD Ireland Life-Writing Project
Edna O'Brien launched the UCD Ireland Life-Writing Archive – an archive of unpublished memoirs covering life in Ireland. Run by the UCD School of English and Drama, The Ireland Life-writing Project will serve an important role in cultural studies for researchers in the future. The UCD Delargy Centre for Irish Folklore and the National Folklore Collection are already internationally-regarded scholarly centres. The Ireland Life-Writing Project is a contemporary version which may have the potential to provide researchers with valuable source material on Ireland in the early 21st century – and how we view ourselves.
"Given Edna O'Brien's brilliant use of autobiographical material in her novels, it seems appropriate the university should sponsor an annual prize known as the Edna O'Brien Prize which will be awarded to the author of the best unpublished fiction based on life experience received by the Archive during the pervious 12 months." Professor Mary Daly, Principal of the College of Arts and Celtic Studies said.

UCD Ulysses Medal
Inaugurated in 2005, the UCD Ulysses Medal is awarded to scholars whose work has made an outstanding global contribution. Former recipients include:
Dr Phillip Sharp (MIT), (10 March 2005) for his outstanding contribution to biomolecular discovery and to advances in medical treatment of diseases such as multiple sclerosis, hepatitis and cancer. Dr Sharp was awarded the Nobel Prize for his discovery that an individual gene does not have to be a single, continuous stretch of DNA, but instead can be made up of several DNA segments. This discovery had major implications for genetic discovery and importantly for research into heredity diseases.
Professor Klaus Schwab, (13 May 2006) founder and executive chairman of the World Economic Forum, in recognition of his work for entrepreneurship in the global public interest over the past 35 years. Prof Schwab founded the World Economic Forum in 1971 as a non-profit foundation, and under his leadership it promotes global partnerships as a means of tackling issues such as third world debt, international trade, the global TB epidemic and the Middle East peace process.
Professor James Heckman, University of Chicago, (7 June 2006) winner of a Nobel prize for economics (2000) for his contribution to research in economics and human behaviour. His work deals with such issues as evaluation of social programs, econometric models of discrete choice and longitudinal data, the economics of the labour market, and alternative models of the distribution of income. Professor Heckman is also UCD Professor of Science and Society, a joint initiative between the UCD Geary Institute and UCD Conway Institute.