Posted: 13 June 2006
First woman to pilot NASA space shuttle honoured by UCD
400 primary school children meet the first woman to pilot NASA space shuttle
Eileen Collins, the first woman to pilot and command a NASA space shuttle was conferred with an honorary Doctor of Science by UCD on Wednesday 14 June. Before the honorary award ceremony, the astronaut, who has spent a total of 872 hours in space on four space flights, spoke to a group of 400 primary school children in UCD's O'Reilly Hall.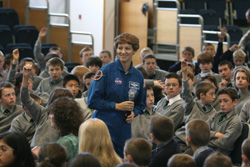 Eileen Collins with group of primary school children
To prepare the primary school children for their meeting with the NASA astronaut, Leo Enright, Chairman of Discover Science & Engineering and National Science Broadcaster presented them with a short 'multi-media 3D Mars safari.' The 3D show consisted of all the latest images of Mars taken by satellites and space vehicles.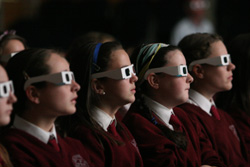 Primary school children watching "multi-media 3D Mars safari"
'What I do is encourage young people to choose careers in maths, science and engineering and to choose those subjects at school, Collins says. 'Russia is planning on sending robotics missions to the moon and China has ambitions to send people on more ambitious missions…it's about time Ireland had its first astronaut.'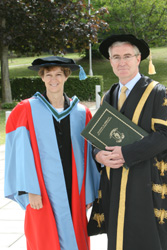 Eileen Collins and Dr. Hugh Brady, President, UCD
Eileen Collins was born in Elmira, New York. Her father's family hail from Cork and her mother's family are from Clare. She attended Elmira Free Academy, New York. In 1976 she graduated from Corning Community College with an associate degree in Science. She graduated from Stanford University with a Master of Science degree in operations research in 1986 and by 1989 she graduated from Webster University with a Master of Arts degree in space systems management.

James C. Kenny, U.S. Ambassador to Ireland, Dr. Hugh Brady, President, UCD and Eileen Collins
She completed her US Air Force undergraduate pilot training in 1979 after which she was a T-38 instructor pilot until 1982. From 1983 to 1985, she was an instructor pilot and aircraft commander on the C-141 Starlifter. She was an assistant professor of Mathematics and a T-41 instructor pilot at the US Air Force Academy from 1986 to 1989.
While attending the prestigious US Air Force Test Pilot School, she was selected for NASA's astronaut programme. She graduated the programme in 1991 and she became the first woman to pilot the space shuttle on the STS-63 Discovery mission in 1995. This was the first flight of the new joint Russian-American space programme, and the Discovery crew was the first to rendezvous with the Russian Space Station MIR.
In 1997, she piloted the STS-84 Atlantis to dock with MIR. And two years later she became the first woman to command a shuttle flight when she led STS-93 Columbia to deploy the highly powerful Chandra X-Ray telescope, the heaviest and most powerful x-ray telescope ever launched into space.
In 2005, she undertook her most recent space flight as commander of the STS-114 Discovery, the first shuttle flight since the Columbia exploded on take-off two years earlier. This was NASA's return flight mission to test safety improvements and re-supply the International Space Station (ISS). During this flight, she became the first astronaut to fly the Space Shuttle through a complete 360-degree pitch manoeuvre.
UCD is introducing a new Physics with Astronomy and Space Science BSc(Hons) Degree in the academic year 2006/2007. This degree focuses on physics and its application to astrophysics and space science. Students will gain an understanding of how ground-based and space-based technologies are used to explore the Universe, and how modern science can be used to understand it.

For information
Email: science@ucd.ie