Posted: 22 June 2006
NovaUCD 2006 Innovation Award for developer of new technology which tackles heart and respiratory diseases
Dr Conor Heneghan, the co-founder of UCD spin-off company BiancaMed, has received the NovaUCD 2006 Innovation Award in recognition of his successful commercialisation of research carried out at the UCD School of Electrical, Electronic and Mechanical Engineering.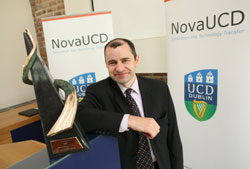 NovaUCD Innovation Award winner, Dr. Conor Heneghan
BiancaMed develops and provides convenient health and wellness monitoring technology for use in daily life. The company is currently developing a product which will allow ultra-convenient heart and respiration monitoring at home as part of an overall health management suite. The product will assist with the medical management of chronic diseases such as heart failure, respiratory disease, and diabetes, which currently represent significant challenges in relation to quality-of-life and healthcare costs. Innovative technologies of this type can be integrated with state-of-the-art telecommunications allowing a person and their healthcare team to use mobile phone, broadband, or wireless communications for ease of use and mobility.
'Conor Heneghan is one of those special individuals who has managed to achieve excellence in research combined with the successful commercialisation of the resulting intellectual property' said Dr Hugh Brady, President, UCD, who presented Heneghan with the award.
BiancaMed, which is located in NovaUCD, the Innovation and Technology Transfer Centre at UCD, has secured deals with leading US companies, Del Mar Reynolds Medical and ResMed. In early 2005, the company secured US Food and Drug Administration clearance to market a screening technology it had licensed to US-based Del Mar Reynolds Medical. LifeScreen ApneaTM permits cardiologists to screen for obstructive sleep apnea using only the overnight recordings of a patient's cardiac signals recorded in the individual's home. With an estimated 20 million sufferers in the US alone, obstructive sleep apnea is a medical condition in which the breathing of an individual is interrupted while the person sleeps, which can lead to daytime sleepiness, fatigue, and which is also a risk factor for serious heart disease. The product is used by leading physicians in Argentina, Ireland, UK and US.
Dr Pat Frain, Director, NovaUCD congratulated the BiancaMed co-founder on receiving the award. 'Conor Heneghan has been extremely proficient in both the creation of an intellectual property portfolio and in the establishment of an exciting spin-off company' he said. 'He is an ideal role model for young researchers seeking inspiration in the establishment of new knowledge-intensive enterprises that are so critical for the development of an indigenous high-tech sector in Ireland.'
BiancaMed won the NovaUCD Campus Company Development Programme in 2002. And in 2004, the company was short-listed for InterTradeIreland's EquityNetwork all-island Seedcorn Business competition. In 2005, BiancaMed was a runner-up in the Dublin Chamber of Commerce David Manley Award for the most inspiring emerging enterprise.