Posted: 18 June 2007
UCD honours veteran Irish actor, Nobel prize-winning economist and classical pianist
For his life's work on the stage and screen, one of Ireland's most successful actors, Milo O'Shea was conferred with an honorary Doctor of Literature by UCD on Friday 15 June 2007. O'Shea, who is 81 years old, was raised in Dublin and educated by the Christian Brothers. He began his stage career at a very early age and was soon performing with the Abbey Players. In the 1960s he became known to audiences for his starring role in the BBC sitcom: Me Mammy. He has since gone on to act in dozens of big screen movies.
"There are a multitude of reasons for conferring the degree of Doctor of Literature on Milo O'Shea for his outstanding achievements as an actor across stage, film and television," said Professor Tony Roche from the UCD School of English and Drama. "Not least is the fact that he played Leopold Bloom in Joseph Strick's 1967 film of Joyce's novel Ulysses."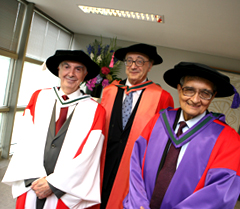 Actor Milo O'Shea; Classical Musician, Alfred Brendel; and Nobel Economist, Professor Amartya Sen honoured by UCD
"Milo was ideal casting as Bloom, an Irish actor uniquely equipped to project the quizzical and humane nature of Joyce's Everyman character, with his inquiring openness, his understatement, his sympathy and his unique gift of comedy." Through his acting O'Shea helped to immortalise Leopold Bloom.
"He makes it all seem so easy," said Professor Roche. "But his is the art that conceals art and you don't sustain a worldwide career across seven decades without a great deal of hard work and talent."
At the ceremony which took place on 15 June 2007, UCD also honoured Professor Amartya Sen in recognition of his work on famine, human development theory, welfare economics, the underlying mechanisms of poverty, and political liberalism. Professor Sen was conferred with an Honorary Doctor of Laws.
In 1981, Professor Sen published 'Poverty and Famines: An essay on entitlement and deprivation.' In this book he showed that famine was not the result of a lack of food but rather the result of inequalities of the mechanisms of food distribution, explained Professor Morgan Kelly, UCD School of Economics.
However, Sen's revolutionary contribution to late twentieth-century development economics was the concept of 'capability.' Using this concept he argued that governments should be measured against the concrete capabilities of their citizens, because top-down development would always win over human rights as long as the definition of the terms remained in any doubt.
Today, Professor Sen has turned his attentions towards understanding the nature of violence in society. According to Professor Sen, the illusion of singular identity is skillfully cultivated and activated by the commanders of persecution and carnage.
One of the greatest musicians of our time, the pianist Alfred Brendel was also honoured by UCD at the ceremony. In recognition of his outstanding contribution to musical performance, Brendel was conferred with an honorary Doctor of Music by UCD.
In a career spanning more than fifty years, Brendel has performed all over the world as a soloist, in chamber music, in concerti with the world's great orchestras, and with the greatest conductors of our time. He is especially renowned for his interpretation of the Austro-German repertoire from Haydn to Brahms, and has made landmark recordings of the Beethoven and Schubert sonatas, the Mozart, Beethoven, Brahms and Liszt concerti, and the major solo piano works of Liszt and Schumann.
"Although alive with characterisation, his performances have a completeness and coherence that stems from a formidable grasp of the music's constructive principles and a penetration of the ideas that motivate them," said Dr Julian Horton, UCD School of Music.
"There is in his playing no hint of superficial display or self-serving expressive rhetoric, but rather a desire to present to the audience the music's intelligent essence."