Posted: 22 June 2007
UCD Archives to preserve the history of Irish nursing and midwifery
UCD and An Bord Altranais have agreed a partnership to transfer the unique archives of the Irish Nursing Board to the curatorship of UCD Archives. The collection includes the archives of An Bord Altranais and of its predecessors - the Central Midwives Board and the General Nursing Council - with some records originating from the late nineteenth century.
"It is a particular pleasure for me as a physician to witness this partnership which signifies such a momentous step forward for the study of the social history of healthcare in Ireland," said Dr Hugh Brady, President of UCD.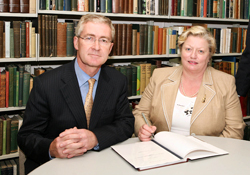 Pictured signing the agreement, Dr Hugh Brady, President, UCD and Mrs. Anne Carrigy, President, An Bord Altranais
"An Board Altranais materials which will be preserved by UCD Archives tell a rich story of the education and family background of Irish nurses," he said. "They contain inspection reports on Irish Nursing schools – which are especially valuable because these schools no longer exist. And the minutes of the Board help to chart the dramatic changes in nursing education over the past century."
"Partnership and trust are the key drivers of our archival policy," continued Dr Brady. "We hold in trust, highly sensitive and highly significant papers on behalf of our donors, the nation and for the historical community."
UCD is the leading Irish centre for the study of the History of Medicine in Ireland. It has recently received a Wellcome Trust Enhancement Award to further engage in this research.
"With the development of nursing and midwifery education in Ireland and particularly the move to the higher education arena, there has been a growing interest in the study of the history of nursing and midwifery," said Mrs Anne Carrigy, President of An Board Altranais.
"An Board Altranais has partnered with UCD Archives to ensure the expert preservation of its historic materials and to enable access to the materials for the purposes of scholarship, research and publication," she continued. "The Board is very conscious of its civic responsibility to preserve material of historic importance for future generations."
Outside the National Archives, UCD is now the most important source of research material relating to independent Ireland. The UCD Archive collection includes the private papers of many Irish political leaders including Eamon deValera, Sean MacEntee, Richard Mulcahy, Garret Fitzgerald and Conor Cruise O'Brien. It also stores the papers of Fianna Fail, Clann na Poblachta, and records of some trade unions. The acquisition of the An Bord Altranais archives represents the further development of the collections profile specifically to support emerging and innovative research strands within the university.
UCD Archives also curates the large collection of Irish Franciscan manuscripts held in trust by the Michéal Ó Cléirigh Institute in a partnership arrangement between UCD and the Irish Franciscans.