Posted: 22 June 2007
McGuinness named Professor of Creative Writing at UCD
Donegal playwright, Frank McGuinness has been named Professor of Creative Writing at University College Dublin. The title which recognises his achievements in drama and literature will remain with him for as long as he is writer in residence at UCD.
"I am extremely honoured with the award of Professor of Creative Writing" said McGuinness. "This is one of the very few times in my life when I find myself short for words."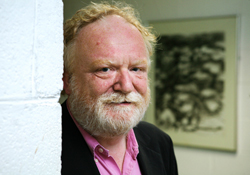 Prof Frank McGuinness, Professor of Creative Writing at UCD
"It is a great privilege to work in the UCD School of English and Drama among such revered Irish writers as my good friend and colleague Professor Declan Kiberd."
McGuinness who was born in Buncrana, County Donegal, received a scholarship to study at University College Dublin in the early 1970s. He first came to prominence in 1982 with his play 'The Factory Girls.' His reputation as a master playwright was firmly established in 1985 when his play 'Observe the Sons of Ulster Marching Towards the Somme' was staged at the Abbey Theatre and then internationally.
His plays include The Factory Girls (1982), Baglady (1985), Observe the Sons of Ulster Marching Towards the Somme (1985), Innocence (1986), Cathaginians (1988), Mary and Lizzie (1989), The Bread Man (1991), Someone Who'll Watch Over Me (1992), The Bird Sanctuary (1994), Mutabilitie (1997), Dolly West's Kitchen (1999), Gates of Gold (2002), and There Came a Gypsy Riding (2007).
His translations include Chekhov's Three Sisters and Uncle Vanya, Brecht's The Threepenny Opera, Ibsen's Rosmersholm, Sophocles's Electra and Ostrovsky's The Storm.
Professor Frank McGuinness is currently Writer in Residence at UCD.