Posted: 02 March 2006
UCD Volunteers Overseas
UCD Volunteers Overseas was established in 2003 to offer students in UCD the opportunity to engage in voluntary work in the Third World. Since its inception, over 170 students and staff of UCD have travelled to Delhi, Haiti and Niger. In order to support these projects financially UCD Volunteers Overseas needs to fundraise on a continual basis. Funds are directed to projects identified by local groups, and which have been identified as the most beneficial to the community.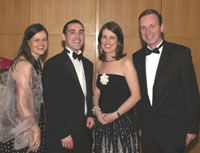 Delhi Ball May 2005 - Barbara Quinlan, Owen Fallon, Aoife Fitzgerald and Tony Coote (Chairman UCDVO)
For the third year UCD Volunteers Overseas is organising the 'Delhi Ball'. This is one of the charity's most important fundraising events and all the money raised will support projects in Delhi, Haiti and Niger.
The Ball takes place in the O'Reilly Hall at UCD on Saturday 27th May 2006. Tickets are priced at €100 per person. This will include a pre-dinner drinks reception at 7.00pm; four course meal (including wine), a band and D.J (helping to shake off the affects of the meal!).
UCD Volunteers Overseas needs your support.
For more information on UCDVO see www.ucdvo.org

For more info about the Delhi Ball contact deirdre.moloney@ucd.ie or tel. 7162183.